Erasure - Tomorrows World (2011)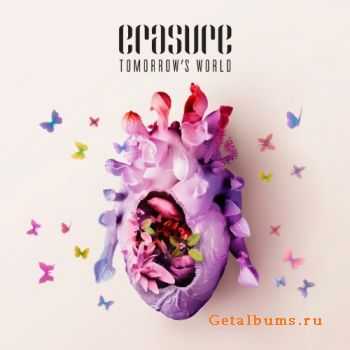 Artist
: Erasure
Title Of Album
: Tomorrows World
Year Of Release
: 11.10.2011
Genre
: Pop
Label
: Mute
Catalog #
: 7298462
Quality
: CBR 320 Kbps
Tracks
: 10
Time
: 35:52 min
Size
: 80 MB
Tracklist:
1. Be With You
2. Fill Us With Fire
3. What Will I Say When You're Gone?
4. You've Got To Save Me Right Now
5. A Whole Lotta Love Run Riot
6. When I Start To (Break It All Down)
7. I Lose Myself
8. Then I Go Twisting
9. Just When I Thought It Was Ending
10. Tomorrow's World
Synthpop pioneers Erasure are back with Tomorrow's World, the band's first album in more than four years. The new album is produced by one of the UK dance scene's most exciting new talents, Frankmusik, whose remixing credits include Lady Gaga, Pet Shop Boys, Ellie Goulding, and Far East Movement. Tomorrow's World was written in New York, London, and at Vince Clarke's cabin studio in Maine following a short break, which found Andy Bell recording and releasing his second solo album Non Stop, and Vince Clarke reuniting with former Yazoo partner Alison Moyet for a recent tour. It was recorded in Maine, London and Los Angeles between January and June 2011, with Vince using his vintage collection of analog synths for the final touch. The end result is a collection of electronic songs that sound totally contemporary and classic at the same time. All songs are written by Bell and Clarke. From Lady Gaga to La Roux, the futurist, electronic sound Erasure championed is more relevant today than ever, and once again re-charging the global music scene.
Информация
Посетители, находящиеся в группе Гости, не могут оставлять комментарии к данной публикации.