VA – Made In The 80s (3CD) (2012)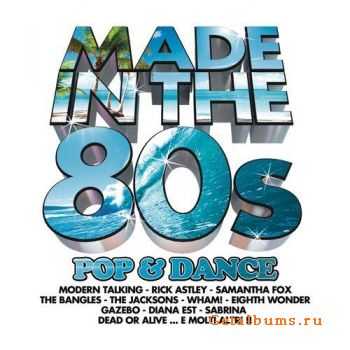 Artist
: VA
Title Of Album
: Made In The 80s
Year Of Release
: 2012
Label:
Columbia
Genre
: Pop, Dance
Quality
: MP3
Bitrate
: VBR V0 kbps
Total Time
: 182 min
Total Size
: 344 MB
Tracklist:
CD1
01.Adam & the Ants - Prince Charming
02.Factory Fiction - (Feels Like) Heaven
03.Freur - Doot Doot
04.Men at Work - Who Can it Be Now?
05.Picnic at the Whitehouse - We Need Protection
06.The Romantics - Talking in Your Sleep
07.T.X.T - Girl's Got A Brand New Toy
08.Terence Trent D'arby - Wishing Well
09.The Bangles - Manic Monday
10.Wham - Freedom
11.Alison Moyet - Love Resurrection
12.Paul Young - Love of the Common People
13.Spandau Ballet - Be Free with Your Love
14.Toto - Africa
15.Cock Robin - the Promise You Made
CD2
01.Milli Vanilli - Girl You Know It's True
02.Imagination - Just an Illusion
03.Mike Francis - Survivor
04.Radiorama - Desire
05.Rick Astley - Never Gonna Give You Up
06.Samantha Fox - Touch Me (I Want Your Body)
07.Diana Est - Tenax
08.Eighth Wonder - I'm Not Scared
09.P4f - Diamond
10.Modern Talking - You're My Heart, You're My Soul
11.Bomb the Bass - Beat Dis
12.Den Harrow - Future Brain
13.Sandy Marton - People form Ibiza
14.Sabrina - Boys (Summertime Love)
15.Taffy - I Love My Radio
CD3
01.The Jacksons - Can You Feel it
02.Odyssey - Going Back to My Roots
03.DJ Jazzy Jeff & the Fresh Prince - Parents Just Don't Understa
04.Eddie Murphy - Party All the Time
05.Fox the Fox - Precious Little Diamond
06.The Weather Girls - It's Raining Men
07.Bros - When Will I Be Famous?
08.Wham - Wake Me Up Before You Go Go
09.James Brown - Living in America
10.The Bangles - Walk Like an Egyptian
11.Daryl Hall & John Oates - Maneater
12.Sinitta - Toy Boy
13.Taylor Dayne - Tell it to My Heart
14.Dead or Alive - You Spin Me Round (Like A Record)
15.Don Pablo's Animals - Venus
Download | Unibytes
Download | DepositFiles
Информация
Посетители, находящиеся в группе Гости, не могут оставлять комментарии к данной публикации.