Frank Sinatra & Count Basie - The Complete Reprise Studio Recordings (2011) HQ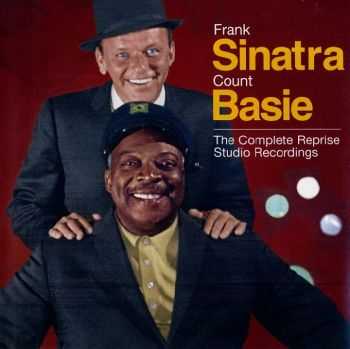 Artist
: Frank Sinatra & Count Basie
Title Of Album
: The Complete Reprise Studio Recordings (Original recording remastered)
Year Of Release
: 2011 (CD 2012)
Label
: Univеrsаl | 0602527968872
Country
: USA
Genre
: Jazz, Vocal Jazz, Big Band
Quality
: FLAC (tracks+.cue,.log) | Mp3
Bitrate
: Lossless | CBR 320 kbps
Total Time
: 01:01:26
Total Size
: 414 MB | 180 MB (Scans)
WebSite
:
Amazon.com
[quote]The long-awaited collaboration between two icons, Count Basie and Frank Sinatra, did something unique for the reputations of both. For Basie, the Sinatra connection inaugurated a period in the '60s when his band was more popular and better known than it ever was, even in the big-band era. For Sinatra, Basie meant liberation, producing perhaps the loosest, rhythmically free singing of his career. Propelled by the irresistible drums of Sonny Payne, Sinatra careens up to and around the tunes, reacting jauntily to the beat and encouraging Payne to swing even harder, which was exactly the way to interact with the Basie rhythm machine -- using his exquisite timing flawlessly. Also, the members of the Basie band play a more prominent role than usual on these two Sinatra records (originally released as Sinatra-Basie and It Might as Well Be Swing), with soloists like Frank Wess -- in some of the finest flute work of his life -- and tenors Frank Foster and Eric Dixon getting prominent solo opportunities on several of the tracks. The music was criticized by some as a letdown when it came out, probably because the charts of Neal Hefti and Quincy Jones rarely permit the band to roar, concentrating on use of subtlety and space. Yet its restraint has worn very well over the long haul. It doesn't beat you into submission, and the treatment of these standards is wonderfully playful.[/quote]
Tracklist:
01. Pennies from Heaven (Arthur Johnston, Johnny Burke) – 3:29
02. Please Be Kind (Saul Chaplin, Sammy Cahn) – 2:43
03. (Love Is) The Tender Trap (Cahn, Jimmy Van Heusen) – 2:37
04. Looking at the World Through Rose Colored Glasses (Jimmy Steiger, Tommy Malie) – 2:32
05. My Kind of Girl (Leslie Bricusse) – 4:37
06. I Only Have Eyes for You (Harry Warren, Al Dubin) – 3:31
07. Nice Work If You Can Get It (George Gershwin, Ira Gershwin) – 2:37
08. Learnin' the Blues (Dolores Vicki Silvers) – 4:25
09. I'm Gonna Sit Right Down and Write Myself a Letter (Fred Ahlert, Joe Young) – 2:36
10. I Won't Dance (Jerome Kern, Jimmy McHugh, Oscar Hammerstein II, Dorothy Fields, Otto Harbach) – 4:07
11. Fly Me to the Moon (In Other Words) (Bart Howard) – 2:30
12. I Wish You Love (Léo Chauliac, Charles Trenet, Albert Beach) – 2:56
13. I Believe in You (Frank Loesser) – 2:21
14. More (Theme from Mondo Cane) (Riz Ortolani, Nino Oliviero, Marcello Ciorciolini, Norman Newell) – 3:05
15. I Can't Stop Loving You" (Don Gibson) – 3:00
16. Hello, Dolly! (Jerry Herman) – 2:45
17. I Wanna Be Around (Johnny Mercer, Sadie Vimmerstedt) – 2:25
18. The Best Is Yet to Come (Cy Coleman, Carolyn Leigh) – 3:10
19. The Good Life (Sacha Distel, Jack Reardon) – 3:10
20. Wives and Lovers (Burt Bacharach, Hal David) – 2:50
Recorded: October 2–3, 1962-June 1964
[quote][center]
Download / Скачать:FLAC
Uploaded.to
Rapidgator.net
Mp3
Uploaded.to
Rapidgator.net
Информация
Посетители, находящиеся в группе Гости, не могут оставлять комментарии к данной публикации.