Simply Red - Big Love - Greatest Hits Edition (30th Anniversary) (2015)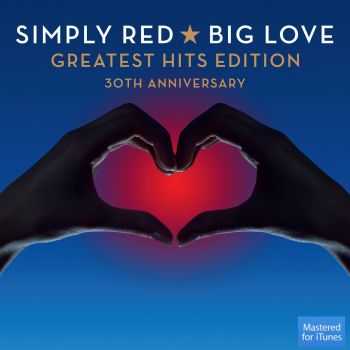 Исполнитель:
Simply Red
Альбом:
Big Love - Greatest Hits Edition
Год: 2015 (Mastered for iTunes)
Страна:
United Kingdom
Жанр: Pop, Rock, Soul, Alternative Rock
Время: 01:57:13
Качество:
FLAC (tracks+.cue) lossless
, aac VBR, 44KHz, Joint Stereo
Размер: 258 - 947 mb (инфа для восс. 3%)
Новый релиз к 30-летию легендарной группы Simply Red, включающий 30 великолепных треков, из которых 12 - это последний альбом группы под названием "Big Love", вышедший в этом году, в качестве дополнения - 18 лучших песен коллектива за предыдущие годы. Simply Red - британская поп и соул-группа, выпустившая свой первый альбом в 1985 году, название получила по одной из версий благодаря цвету волос её лидера Мика Хакнелла. За свою историю Simply Red выпустили одиннадцать студийных альбомов и продали более 50 миллионов дисков.
Limited edition two CD set celebrating the band's 30th Anniversary. Contains their 'reunion' album Big Love plus a bonus 18 song hits collection. 2015 album from the reunited British soul group fronted by Mick Hucknall. Highlights include the celebratory first single 'Shine On' driven by their trademark blue-eyed soul sound and 'The Ghost Of Love', a big soul song punctuated by wah-wah guitar and the kind of bold orchestral strokes that once powered Barry White and his Love Unlimited.
Marking 30 years since the release of Simply Red's debut 'Picture Book', the band release Big Love – Greatest Hits Edition featuring the new Top 5 album 'Big Love', and a bonus disc of 18 greatest hits.
'Big Love' is the first album to feature only original compositions since 1995's 'Life', all written by Mick Hucknall, produced by Andy Wright and recorded by Mick and band members - Ian Kirkham, Kenji Suzuki, Dave Clayton and Steve Lewinson.
The 'Greatest Hits' disc includes 'Stars', 'Something Got Me Started', 'Holding Back The Years' and 'If You Don't Know Me By Now'.
The two CD album includes 30 incredible tracks to celebrate 30 great years! Quite simply, 'Big Love' is Simply Red at their best, 12 tracks to cherish.
Tracklist
:
01. Shine On (3:11)
02. Daydreaming (3:38)
03. Big Love (4:09)
04. The Ghost of Love (3:14)
05. Dad (3:54)
06. Love Wonders (3:55)
07. Love Gave Me More (3:27)
08. Tight Tones (3:35)
09. Woru (4:12)
10. Coming Home (2:53)
11. The Old Man and the Beer (2:53)
12. Each Day (4:17)
13. Sunrise (3:20)
14. Stars (4:08)
15. A New Flame (3:57)
16. Holding Back the Years (4:30)
17. Home (3:15)
18. You've Got It (3:57)
19. Your Mirror (4:05)
20. For Your Babies (4:17)
21. The Right Thing (4:21)
22. Say You Love Me (3:48)
23. So Not Over You (3:53)
24. Fake (4:00)
25. Never Never Love (4:18)
26. Thrill Me (5:05)
27. Something Got Me Started (4:01)
28. Money's Too Tight (To Mention) (4:15)
29. Fairground (5:32)
30. If You Don't Know Me by Now (3:25)
Информация
Посетители, находящиеся в группе Гости, не могут оставлять комментарии к данной публикации.