Scott Joplin - Treemonisha (2011)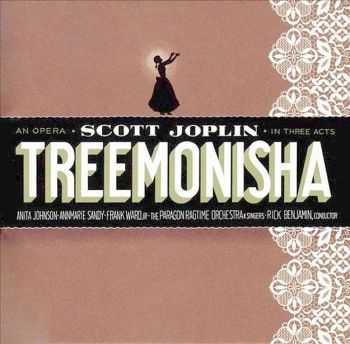 Artist
: Scott Joplin
Title Of Album
: Treemonisha
Year Of Release
: 2011 (05.12)
Label
: New World Records (80720-2)
Genre
: Classical/Early 20th Century/Opera
Quality
: FLAC (tracks+.cue,.log)
Bitrate
: Lossless
Total Time
: 01:32:19
Total Size
: 522 MB (Scans)
WebSite
:
Amazon.com
When Scott Joplin's 1911 opera Treemonisha was rediscovered in the 1970s, only a vocal score had survived, and various composers, including William Bolcom and Gunther Schuller, created orchestrations for full modern orchestra. Schuller's version was produced by the Houston Grand Opera and recorded by Deutsche Grammophon in 1976. Conductor Rick Benjamin, in the fascinating and exceptionally thorough program notes to this 2011 New World Records version of the opera, makes a virtually irrefutable case for Joplin's intention that a 12-member pit orchestra, a standard theater ensemble of the era, should accompany Treemonisha. Benjamin's version is considerably less grand than that of the Houston recording, and it is certainly closer to what the composer intended. The textures are varied but transparent, and the voices are always easy to hear and understand. It emphasizes the intimacy of the piece, which was always intended for small venues and makes clear its provenance as a distinctively American work rather than an imitation of European grand opera.

Set in Arkansas during Reconstruction, the opera's story is disarmingly sweet and simple, and it was ahead of its time in at least two regards, in offering the model of a woman as a civic leader, and in its foreshadowing of the Civil Rights' movement's rejection of returning violence with violence. There are several ragtime numbers, the genre for which Joplin is most remembered, but most of the music is more traditionally lyrical and operatic, made up of solos, conversational dialogues, ensembles and choruses. The influences of 19th century African American music, as well as popular song of the era, are evident throughout, and Joplin's handling of the vernacular material is both natural and subtly sophisticated. Especially in this version, which makes it suitable for small companies, Treemonisha is a work that amply deserves a place on more operatic stages. Benjamin leads the Paragon Ragtime Orchestra and Singers in a lively and loose-limbed account of the engaging score. Soprano Anita Johnson stands out in the title role and tenor Chauncey Packer is especially strong as Remus. The rest of the cast is never less than very fine. The sound quality is clean, detailed, and well-balanced overall between the singers and the orchestra, but the stereo separation can be extreme and tends to isolate voices in one channel or the other.
Tracklist:
cd1
01. Act 1. Overture 7:29
02. Act 1. The Bag of Luck 8:04
03. Act 1. The Corn-Huskers 0:45
04. Act 1. We're Goin' Around 2:22
05. Act 1. The Wreath 1:46
06. Act 1. The Sacred Tree 5:25
07. Act 1. Surprised 0:18
08. Act 1. Treemonisha's Bringing Up 4:40
09. Act 1. Good Advice 5:05
10. Act 1. Confusion 2:37
11. Act 2. Superstition 3:34
12. Act 2. Treemonisha in Peril 2:49
13. Act 2. Frolic of the Bears 2:05
14. Act 2. The Wasp-Nest 1:16
15. Act 2. The Rescue 1:25
16. Act 2. We Will Rest Awhile 1:29
17. Act 2. Going Home 0:39
18. Act 2. Aunt Dinah Has Blowed de Horn 1:21
cd2
01. Act 3. Prelude 4:16
02. Act 3. Duet. I Want to See My Child 2:18
03. Act 3. Treemonisha's Return 3:42
04. Act 3. Wrong Is Never Right 5:33
05. Act 3. Abuse 0:27
06. Act 3. When Villains Ramble Far and Near 5:10
07. Act 3. Conjurers Forgiven 1:38
08. Act 3. We Will Trust You as Our Leader 8:13
09. Act 3. A Real Slow Drag 5:48
10. Appendix. Bowing Music: Themes from the Opera in One-Step Tempo 2:05
11. Appendix. Libretto Preface (read by 's closest living relative, Grandniece Mrs. LaErma White) 6.32
********************************************
Paragon Ragtime Orchestra – Rick Benjamin
Paragon Ragtime Singers
Edward Pleasant – baritone
Annmarie Sandy – mezzo-soprano
Anita Johnson – soprano
Download / Скачать:
Rapidgator.net 1
Rapidgator.net 2
Turbobit.net 1
Turbobit.net 2
Информация
Посетители, находящиеся в группе Гости, не могут оставлять комментарии к данной публикации.