VA - No Legal Murder (1992)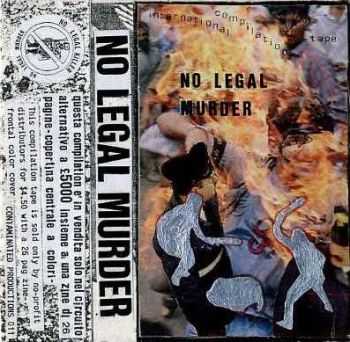 Исполнитель:
VA
Альбом:
No Legal Murder
Год выхода: 1992
Страна: Italy
Жанр: Post-Punk, Punk Rock
Качество: 320 kbps
Размер: 200.80 MB
Треклист:
a01. RUINS - Grudandgo
a02. POLITICAL ASYLUM - I've got a name
a03. DIE TESTERS - Wochenend und somnenschein
a04. ETAT DES STOCKS - Cops are circling
a05. MUSHROOM ATTACK - Kill the pigs
a06. MUSHROOM ATTACK - The fight goes on
a07. THE SUBVERSIVES - No questions will ask
a08. DAWSON - Fifty years
a09. INFEZIONE - Terrorismo legalizzato
a10. WHO MOVED THE GROUND - A thousand voices
a11. ONE BY ONE - Making bacon
a12. THOMPSON ROLLET - Senseless things
a13. SABOT - At the point of no return
a14. FROGS OF WAR - Here it comes again
a15. HIRN - Just like Eddie
a16. SPINY NORMAN QUARTET - Stand still a while
b01. AGENT 86 - Capitol police
b02. LES SEMINOLES - Une plague
b03. BLIND JUSTICE - X-ray vision
b04. DIRTY HANDS - Men
b05. FOREHEAD - But i seem to accept it
b06. SPINNERS - Dig the hole forget the sun
b07. ANTICORPI - Senza alternativa
b08. BADGEWEARER - Inflexible expendable
b09. CRIME UNDER NEW TITLES - The soothsayer
b10. DEMISE - Firecracker
b11. THE NEOLITHICS - Long journey into the mudlights (live)
b12. HIATUS - Police crimes
b13. HIATUS - Lay it all down
b14. SOLANACEAE TAU - Barrels of blood
b15. JIMMY SAVILLE'S WHEELCHAIR - Jade root
b16. CHILLI CONFETTI - Bad songs about love
b17. UFO JA ANTENNIA - Ooh beibi
b18. UFO JA ANTENNIA - No trouble
Информация
Посетители, находящиеся в группе Гости, не могут оставлять комментарии к данной публикации.