Wizo - Anderster (2004)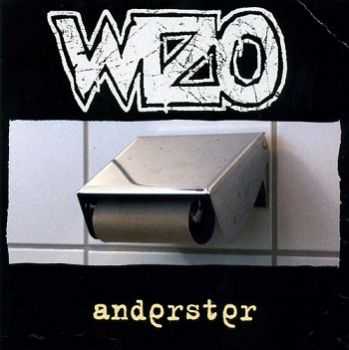 Artist:
Wizo
Title Of Album:
Anderster
Release Date:
2004
Location:
Germany
Label:
Hulk Räckorz (HULK 332)
Genre:
Punk
Quality:
FLAC (tracks+.cue) / MP3 CBR 320 kbps
Length:
41:56 min
Tracks:
14
Total Size:
325 MB / 102 MB (+5%)
Anderster
, or andɐrstɐr as it says on the album cover, is a studio album by the German punk rock band
Wizo
, released 1 November 2004. When announcing the album, the band offered the English translation of "differenter". The band explains on the back cover of the album that the album was supposed to be different but instead turned out even "differenter". The word anderster is an artificial construction based on the German word anders, which means "different". The word anderster does not officially exist within the German language and could be considered a neologism or a grammatically incorrect construction. Because anders is an adverb, it is not considered proper to use in a comparative describing a noun. The proper adjective form of anders is andersartig, which changes to andersartiger with the proper comparative inflection, meaning "more different".
Tracklist:
01. Kopf Ab, Schwanz Ab, Has! (1:14)
02. Nana (2:28)
03. Jimmy (4:19)
04. Unsichtbare Frau (2:41)
05. Kleines Missgestück (2:48)
06. Der Lustige Tagedieb (3:22)
07. Heut Nacht (2:26)
08. Egon (2:40)
09. Phlughaphöm (2:29)
10. Chezus (3:47)
11. Schlau, Verdammt Und Gutaussehend (3:32)
12. Raumgleita (3:25)
13. Miss Pickafight (2:41)
14. Z.G.V (4:05)
Download / Скачать flac:
Uploaded.net
Turbobit.net
Hitfile.net
RusFolder.com
Download / Скачать mp3:
Uploaded.net
Turbobit.net
Hitfile.net
RusFolder.com
Информация
Посетители, находящиеся в группе Гости, не могут оставлять комментарии к данной публикации.