VA - Solid As A Rock 4 (2012)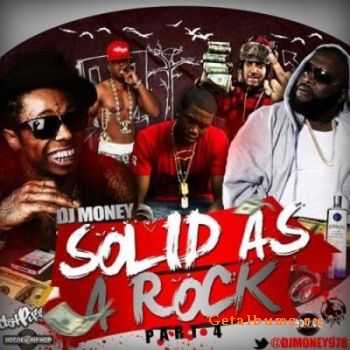 Исполнитель:
VA
Альбом:
Solid As A Rock 4
Жанр:
Rap/Hip-Hop
Страна:
USA
Год издания:
2012
Битрейт аудио:
192 kbps
Размер:
102 мб
Треклист:
1.Meek Mill - Lean Wit it
2.Red Cafe - Let it Go (Dope Boy) feat. Diddy
3.Kali Kash Feat. Waka Flocka Flames - Drop It On Me
4.Chris Brown - Convertible
5.Tyga - Faded feat. Lil Wayne
6.Slim - Deja Vu Feat. Rick Ross
7.50 Cent- Up (Remix) Feat. LoveRance, Young Jeezy T
8.Tyga - Rack City (Remix) feat Wale, Fabolous, Young Jeezy, Meek Mill T.I.
9.Wiz Khalifa feat Juicy J - The Motto Remix
10.Gucci Mane - The Motto (Freestyle)
11.ASAP Rocky-Pretty Flacko
12.50 Cent Feat Jeremih - Girls Go Wild
13.Stuey Rock Feat. Juicy J Slim Dunkin - Tryna Fuck
14.Kid Ink - Time Of Your Life
15.Future - Blow feat. Ludacris
16.Rick Ross - Spend It (Freestyle)
17.French Montana feat Ace Hood - You Dont Hear Me Though
18.Cassidy - What Real Niggas Do
19.DJ 6Pac Feat. Lil Flip - Everybody know me in the club
20.Rick Ross - Magic (Remix)
21.Tyrese - Fireworkz (Remix) feat. T.I., Big Sean Busta Rhymes
22.Rick Ross - Mirror (Freestyle)
23.Red Cafe - How You Love That feat. Meek Mill 2 Chainz
24.Maino - Cream (Remix) feat. T.I. Meek Mill
25.Master P - Get My Paper Right feat Meek Mill
26.Bow Wow- Do It To The Fullest Feat. Cory Gunz
27.Outtro
28.This Is Hip Hop (feat. Wordstorm)
Информация
Посетители, находящиеся в группе Гости, не могут оставлять комментарии к данной публикации.