Exclusive Tunes 3D 3 (2012)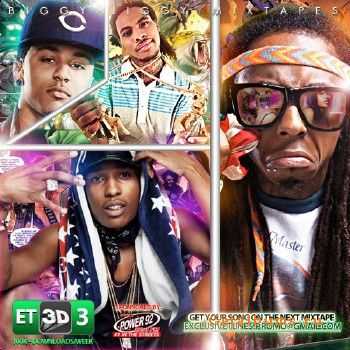 Исполнитель:
Сборник
Страна:
USA
Альбом:
Exclusive Tunes 3D 3
Жанр:
Rap | Hip - Hop
Год выхода:
2012
Формат:
mp3 | 192 Kbps
Размер:
208.56 Mb
Треклист:
1.Rita Ora – RIP (Feat. Tinie Tempah, Drake)
2.Kirko Banks – Drank In My Cup (Remix) (Feat. J Cole, 2 Chainz)
3.Mike Will Made It – Back To The Basics (Feat. Gucci Mane, Waka Flocka)
4.YG – Westside 4Fingaz (Feat. Reem Riches, Riko)
5.Exclusive Tunes 3D Promo
6.Mac Miller – The Question (Feat. Lil Wayne)
7.Trae Tha Truth – Let It Go (Feat. T.I.)
8.YG – How To Make It In America (Feat. Mac Miller)
9.Lil Kim – Keys To The City (Feat. Young Jeezy)
10.DJ SNS – Okay With Me (Gucci Mane, 2 Chainz)
11.ASAP Rocky – Chunk Up The Deuce (Freestyle)
12.DJ Premier – Turn Up The Mix (Remix) (Feat. Bumpy Knuckles, Nas)
13.N.O.R.E. – Google That (Feat. Raekwon, Styles P)
14.Piles – We Are Trayvon (Trayvon Martin Tribute)
15.Mac Miller – Ignorant (Feat. Cam'ron)
16.YG – Grindmode (Feat. 2 Chainz, Nipsey Hussle)
17.Iggy Azalea – Murda Bizness (Feat. T.I.)
18.Tech N9ne – Klusterfuk (Feat. Sassy)
19.Ace Hood – Different People (Feat. Game)
20.Win A Single Produced By We The Best [BeAHoodStar.com Promo]
21.Swizz Beatz – Street Knock (Feat. ASAP Rocky)
22.ASAP Rocky – Purple Swag (Feat. Bun B, Paul Wall, Killa Kyleon)
23.Young Riplee – Ciroc Bottles (Feat. Kay-P)
24.Soulja Boy – Head Out (Feat. Chevy Woods, Juicy J)
25.Purchase Swag Cheap [HomieGear.com Promo]
26.Busta Rhymes – Can You Keep Up (Feat. Twista)
27.Mac Miller – Fight The Feeling (Feat. Kendrick Lamar, Iman Omari)
28.Lex & S.B. – I'm Sick (Remix)
29.Trey Songz – Heart Attack
30.Lloyd – Shoulda Been
31.D.L.O – Crucify
32.Stalley – Hammers And Vogues (Feat. Currensy)
33.DJ Allstyle – Lunch Mix (03.23.12)
34.Lloyd – Conditions
Скачать "Exclusive Tunes 3D 3 (2012)"
Информация
Посетители, находящиеся в группе Гости, не могут оставлять комментарии к данной публикации.