Swish Mix Vol. 6 (2013)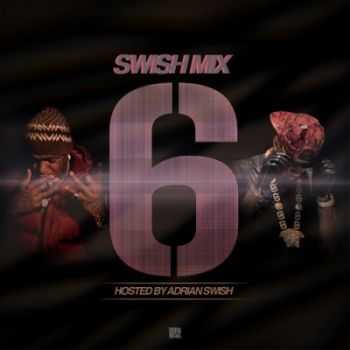 Исполнитель:
VA
Альбом:
Swish Mix Vol. 6
Жанр:
Rap/Hip-Hop/RnB
Страна:
USA
Год издания:
2013
Битрейт аудио:
256 kbps
Размер:
270 мб
Треклист:
1.Rockie Fresh - The Lights (Prod by Lifted)
2.Young Scooter feat Rick Ross, Birdman -Columbia Remix
3.Birdman feat Future, Tyga, Meek Mill - Fly Rich
4.French Montana feat Future - Down & Out
5.Wink Loc feat Pusha T, Ra Diggs, - Give Em Hell
6.Dave East - Came Up
7.Juicy J feat The Weekend - One Of Those Nights
8.50 Cent feat Kendrick Lamar, Kid Kid - We Up
9.Fly Society - Window
10.Gibril Da African - Dope Fein
11.Gucci mane feat 2 Chainz - Dirty Cup
12.Audio Push feat Hitboy, Problem - TU
13.Tyler The Creator - Domo 23
14.A-Waxx feat Gucci Mane, DJ Paul - Make Room Remix
15.Ace Hood feat DJ Khaled - Got Those Js
16.Youing Dro - FDB (Fuck Dat Bitch)
17.Flow ft Christian Radke - Lights
18.Young Scooter feat Wale Gucci Mane - Pass Around
19.Rocko feat Lloyd - Shiiknow
20.Kevin Mccal feat Problem - Turn Me On
21.The Dream feat Fabolous - Slow It Down
22.Eric Bellinger feat Los - Wrong Places
23.J Cole feat Miguel - Power Trip
24.Los - Fear
25.Kid Vishis feat Royce da 5ft 9 - Staright Out Of Detroit
26.Damian Marley - Dem Neva Mek It
27.Mariah Carey - Almost Home
28.Cassonova fewat Skizzy Mars, G -Eazy - Crew Love
29.Slim Thug feat paul Wall - I Come From Texas
30.Tha Joket Too Cold - Cold As A MF
31.Fly Society - Meet Me At The W (Prod by Fuzzy Felix)
32.Frank Ocean - Eyes Like The Sky
33.Jared Evan - Are We Almost There Yet (Prod by Staik Seleckta)
34.Kyle - Keep It Real
35.Pitbull - Welcome To Dade County
36.AfroJack feat Chris Brown - As Your Friend
37.Usher - Go Missin
38.Kid Cudi - Immortal
39.Big Krit feat Bun B- Shine On
40.JamieBoy - Stay (Cover-Remix)(Master)
Информация
Посетители, находящиеся в группе Гости, не могут оставлять комментарии к данной публикации.