VA Snowgoons - Dynasty (2012)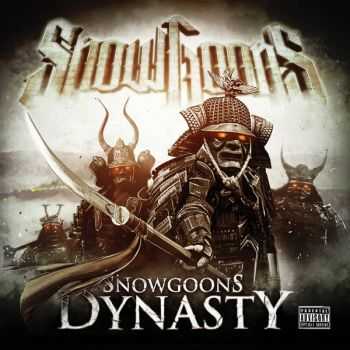 Исполнитель:
VA Snowgoons
Альбом:
Dynasty
Год выхода: 2012
Страна: канада
Жанр: рэп
Время: 1:53:23
Качество: 320
Размер: 198
Треклист:
01. Snowgoons Dynasty Pt 2 (feat. Freestyle)
02. Get Off The Ground (feat. Termanology, Sean Price, H-Staxx, Justin Tyme, Ruste Juxx & Lil Fame [of M.O.P.])
03. What U Do This For (feat. Krush Unit)
04. John McEnroe (feat. NBS & Sicknature)
05. Better Day (feat. Lyriciss)
06. Goonsville (feat. Blaq Poet & Usual Suspectz)
07. Cardiac Rhythm (feat. Sean Strange)
08. Queens (feat. Royal Flush, El Toro, Scott G & Crookz Green)
09. Street Passion (feat. Rozewood)
10. Fight Club (feat. Knowbodies, Smiley, CheckMark & E-Flash [of NBS])
11. Akhenaten (One)
12. What That West Like (feat. Planet Asia, Krondon, Banish, Ras Kass & Aims)
13. Turista (feat. Blacastan)
14. Press Ya Luck (feat. Mykill Miers)
15. The Legacy (Feat. Esoteric, Ill Bill, Godilla))
16. Missing Pages (feat. Revolution Of The Mind & Sabac Red)
17. Goon MuSick (feat. Sicknature)
18. The Cypher (feat. Aspects, Ghostface Killah, Swisha T & Killah Priest)
19. Concentrate (feat. Prop Dylan)
20. Get Down (feat. BAM)
21. Born To Spit (feat. Fel Sweetenberg)
22. Prayn In The Rain (feat. Eshon Burgundy)
23. Shutout (feat. Dirt Platoon)
24. Snowbiz (feat. Faez One & Main Flow)
25. Take Notes (feat. NBS & Lady Repo)
26. The Rapture (feat. Meth Mouth, Swifty Mcvay, Bizarre [of D12], King Gordy & Sean Strange)
27. First Cousins (feat. Joell Ortiz, O Doub, Bundy & Codey)
28. Reality Check (feat. Tribeca & Trife Tha God)
29. That's Me (feat. Nutso)
30. Hood Ikon (feat. Tragedy Khadafi)
31. Grim Reaper (feat. Freestyle & Grim Reaperz)
32. Rear Naked Choke (feat. Viro The Virus)
Информация
Посетители, находящиеся в группе Гости, не могут оставлять комментарии к данной публикации.