Hip Hop TXL Vol 33 (2014)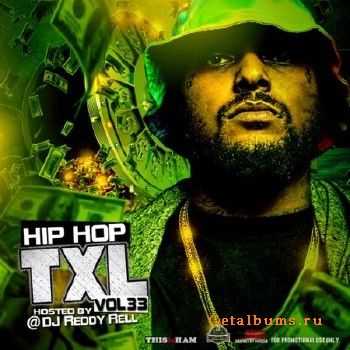 Название:
VA - Hip Hop TXL Vol 33
Год:
2014
Страна:
USA
Битрейт:
320 kbps
Размер:
275 мб
Залито на:
Unibytes, iFolder, Uploaded
Доп.Инфо:
Свежие хиты из США .
Tracklist:
1.DJ Reddy Rell - Hip Hop TXL Vol 33 Intro (Prod By Young Tzar)
2.ScHoolboy Q - Break The Bank
3.Lil Wayne ft Euro, Birdman - We Alright
4.Nicki Minaj - Danny Glover (Remix)
5.YG ft Lil Wayne, Meek Mill, Rich Homie Quan, Nicki Minaj - My Nigga (Remix)
6.Kirko Bangz ft YG, Yo Gotti - Hoe
7.Iamsu ft 2 Chainz, Sage The Gemini - Only That Real
8.Migos ft Rico Love - They Dont Know (Remix)
9.Ludacris ft Jeremih, Wiz Khalifa, Cashmere Cat - Party Girls
10.Nipsey Hussle ft K Camp - Between Us
11.DJ Kay Slay ft 50 Cent, Fat Joe - Free Again
12.Ace Hood - Everyday
13.Young Breed ft Rick Ross, Fat Trel - Game Over
14.Maino ft T.I., French Montana - Watch Me Do It
15.Red Cafe ft Ace Hood, French Montana, Jeremih - I'm Rich (Remix)
16.Maino ft Meek Mill, Troy Ave - Lights Camera Action
17.Big Sean - 1st Quarter (Freestyle)
18.J Cole - Revenge Of The Dreamers
19.QuESt ft Castro, Jon Bellion, Logic - 24 (Freestyle)
20.Kid Ink - Never Goin Back
21.King Shark - I'm Back (TXL Artist Premiere)
22.JR Writer - Man Down (Freestyle)
23.Kendrick Lamar - Radioactive (Remix) (TXL Edit)
24.Rick Ross ft Wale - Royals (Remix)
25.Big Boi - Thom Yabrough (Remixed by Yarbrough & Peoples)
26.Smoke DZA ft J Ivy - Black Independence
27.Yelawolf - Box Chevy V
28.C Stocks - Rita Ora (TXL Artist Premiere)
29.Plies ft Problem - Money Bag
30.Jadakiss ft DJ Spinking - Stoner (Remix)
31.Juicy J - Blow Out
32.Peter Jackson ft Waka Flocka - Havana (TXL Feature)
33.Kevin Gates - Dont Know
34.Young Thug ft Meek Mill - Hundreds (I Had A Dream)
35.Young Thug ft Bloody Jay - No Fuck
36.Don Trip ft Juicy J - Still In The Trap
37.Yo Gotti ft Chris Echols - Lay It Down
38.French Montana ft Lana Del Ray, Wiz Khalifa, Machine Gun Kelly, Snoop Dogg - All For You (Remix)
39.Jonny ft Adrian Troy, Tabius Tate - Hustler's Way (TXL Artist Premiere) [Get Amnesia The Mixtape on
40.Grafh ft Styles P, Loaded Lux - Zip Em Up
41.DJ Kay Slay ft Game, Young Buck, Papoose - Rolling Stone
42.Curren$y ft Action Bronson - God Father 4
43.Isaiah Rashad - R.I.P. Kevin Miller
44.Rich Kidz - Rider (Instrumental) (Prod by Go Grizzly) (GotInstrumentals.com Exclusive)
Cкачать Hip Hop TXL Vol 33 (2014))
:
Скачать c Unibytes
Скачать c iFolder
Скачать c Uploaded
Информация
Посетители, находящиеся в группе Гости, не могут оставлять комментарии к данной публикации.