Mr Key & Greenwood Sharps - Yesterday's Futures (2015)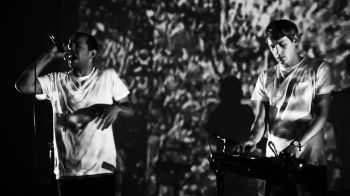 "Yesterday's Futures" isn't just a masterpiece of experimental hip-hop, it's a work of high art, as dramatic and worthy of reverence as a Turner seascape or a Shakespeare sonnet. Against a backdrop of roiling, impressionistic ambience and viscous beats that cleave to the inside of your skull, Key wields his formidable intellect like a scalpel to perform an unflinching lyrical autopsy on life, love and loss in contemporary Britain. Remember that hip-hop album so good it only existed in your imagination? Well, it's here.
Tracklist:
01 – Rituals (Feat. Jam Baxter)
02 – Exact Costs, Pt. 1 (Feat. Edward Scissortongue) (All Rise)
03 – Missing You
04 – Millions
05 – Fall Away
06 – Funny Valentine
07 – Kids Story
08 – Solstice
09 – Exact Costs, Pt. 2 (This Much I Know)
10 – Tongue Bite (Feat. Dirty Dike & Ronnie Bosh)
11 – Faust Hype
12 – Cowboy Builders
13 – Icarus Instinct
14 – Dandelion
русфолдер
турбобит
Информация
Посетители, находящиеся в группе Гости, не могут оставлять комментарии к данной публикации.