VA - Хиты японских рокеров (2011)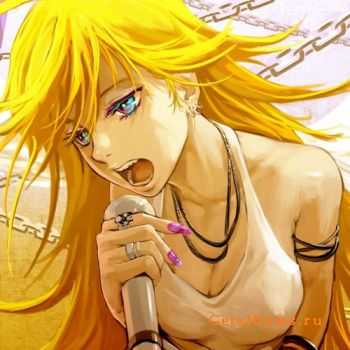 Исполнитель:
VA
Альбом:
Хиты японских рокеров
Год выхода: 2011
Страна: Japan
Жанр: JRock
Качество: mp3 CBR 320kbps
Размер: 829 МБ
Треклист:
1.Bow Wow - Behind The Mask
2.E.Z.O. - Million Miles
3.Janne da Arc - Gekkoka
4.Go!Go!7188 - Bara Bara
5.ElecTric Sheep - Glory Days
6.X Japan - Miscast
7.Akira Yamaoka - Injection Of Love
8.Dir En Grey - Rasetsukoku
9.Go!Go!7188 - A.M. 7.30
10.Sigh - Izuna
11.D'espairs Ray - Born
12.Love Psychedelico - Standing Bird
13.Go!Go!7188 - Bariburi
14.An Cafe - Kawayu's Яock
15.Anna Tsuchiya - Slap That Naughty Body
16.Akira Yamaoka - IFuturelist
17.Megumi Hayashibara - Shaman King Opening
18.Swallowtail - Morning
19.54 Nude Honeys - Happy Birthday
20.The 5.6.7.8's - Woo Hoo
21.Carmen Maki - Rock'n Roll Star
22.Hitomi Takahashi - Candy Line
23.Go!Go!7188 - Koi no Fuga
24.Aikawa Nanase - Midnight Blue
25.The Cherry Coke$ - Making A Living With You
26.Dir En Grey - Vantis
27.Kalafina - Hikari no Senritsu
28.Hyde - Made In Heaven
29.Akiko Hamada - Tetsugoushi No Sora
30.Vow Wow - Stay Close Tonight
32.The Peanuts - Koi no Fuga
33.Meiko Kaji - Jeans Blues
34.Go!Go!7188 - Fat Na Kare
35.The Peanuts - Jounetsu no Sabaku
36.Lonesome Emperor - Theme Part.1
37.Kimura Kaera - Oh Pretty Woman
43.An Cafe - Tekesuta Kousen
44.X-Ray - One Night Lady
45.Merry - Peep Show
46.Jui - Sora To Iu Shinjitsu Ni Ha Kokyuu To Zetsubou
47.Aikawa Nanase - Tamannai Junkan
48.Mika Bomb - Snake and Crane
49.Captain Straydum - Clean Town
50.The Back Horn - Kodoku no Senjyou
51.Momoe Yamaguchi - Imiteishiyon Gold
52.Janne da Arc - Lady
53.Ningen-Isu - Kyuushouzu no Scat
54.Go!Go!7188 - Sun
55.The Peanuts - Koi no Vacance
56.Sex-Android - Shannon Meng Dixian
57.Lareine - Fuyu Tokyo
58.Momoe Yamaguchi - Rotsukunroru Uidou
59.Scandal - Anatagamawaru
60.Gito Gito Hustler - Muscle Body Ecstasy
61.Penicillin - Zero
62.Kra - Cyber ? - I Love You
63.Mari Hamada - Don't Change Your Mind
64.Love Psychedelico - Lady Madonna
65.Issay feat. Sugizo & Hidehiko Hoshino - Wait Until The Morning
66.Bluem of Youth - 1st Single
67.Versailles - Judicial Noir
68.The 5.6.7.8's - Oriental Rock
69.Makinikarisu - Artificial Paradise
70.Syndicate - Night Cityboy
71.Secilia Luna - Providence
72.X.Y.Z.-A - Can'T Get Started
73.Go!Go!7188 - Sakurajima
74.DOG in The PWO - Virus MU-49
75.Alice Nine - The Void
76.Vow Wow - The Chosen Few
77.Shonen Knife - Quavers
78.Yoko Ono - Why
79.Head Phones President - Folie a Deux
80.Loudness - Exultation
81.Akira Yamaoka & Rika Muranaka - She
82.Yosei Teikoku - Keep Existing
83.Seagull Screaming Kiss Her Kiss Her - Down To Mexico
84.Terra Rosa - The Endless Basis
85.Fumihiko Kitsutaka - Justice Of Black
86.Bow Wow - Take Me Away
87.ZARD - Ready,Go!
88.Tomoyasu Hotei - Sunshine Of Your Love
89.Aina Ougi - Twilight Irony
90.Morrie - SEX Setsudan
91.Yukari Ito - Not Seeing Stars
92.Prambath - Boys Order
93.Ningen-Isu - Ryouki ga Machi ni Yattekuru
94.ZONE - Meiki Yua Muuvu
95.The Peanuts - Kanashiki Tango
96.Outrage - Under Control Of Law
97.X Japan - Joker
98.Kalafina - Lacrimosa
99.Bow Wow - James In My Casket
100.Ayumi Hamasaki - Ladies Night
Внимание! У Вас нет прав для просмотра скрытого текста.
Все ссылки на музыку, размещенные выше, представлены исключительно для ознакомительного прослушивания и расположены не на нашем сервере. Все файлы лежат на сторонних серверах, к которым сайт не имеет никакого отношения. Наш сайт является лишь блогом, на котором пользователи выкладывают ссылки на эти файлы, которые доступны публично. После прослушивания Вы обязаны удалить скачанные файлы и приобрести легальную копию.
Информация
Посетители, находящиеся в группе Гости, не могут оставлять комментарии к данной публикации.