Michael Bolton - Soul Provider (1989)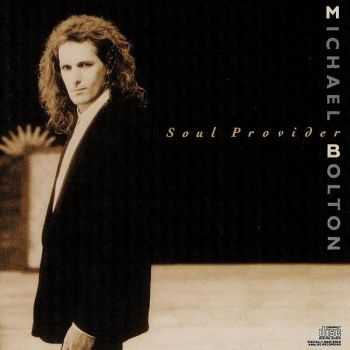 Michael Bolton - Soul Provider (1989)
FLAC: TRACKS+CUE+LOG | 284.87 MB | MP3 CBR 320 kbps | 102.85 MB | SCANS | Time: 42:41
Genre: Pop Rock, Soft Rock | Label: CBS Records Inc./Columbia | Cat.#: CK 45012
Первый по-настоящему "звёздный" альбом Майкла Болтона, к успеху которого он шёл долгие годы. С пластинки вышло четыре сингла, попавших в Топ 20, из которых "How Am I Supposed To Live Without You" находился на вершине американских чартов 3 недели!
Soul Provider
is the sixth studio album by American recording artist Michael Bolton. The album was released on June 19, 1989 by Columbia Records. This was the album that turned Bolton into a superstar. Supported by numerous successful singles that reached the top of the charts worldwide, the album achieved longevity on the Billboard Top 200. It reached #3 in the US, going 6x Platinum and sold over 12,500,000 million copies worldwide.
Michael Bolton
Wikipedia
allmusic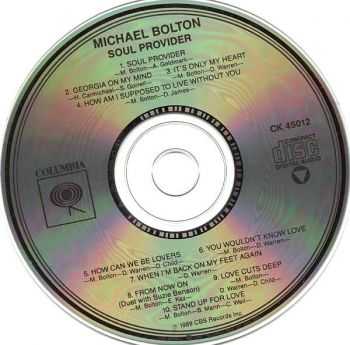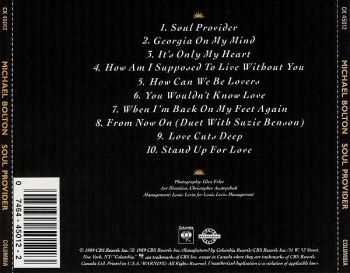 Track Listing
:
1.
Soul Provider
(4:28)
2. Georgia On My Mind (4:58)
3. It's Only My Heart (4:33)
4.
How Am I Supposed To Live Without You
(4:16)
5.
How Can We Be Lovers
(3:57)
6. You Wouldn't Know Love (3:55)
7. When I'm Back On My Feet Again (3:50)
8. From Now On (Duet with Suzie Benson) (4:09)
9. Love Cuts Deep (3:51)
10. Stand Up For Love (4:44)
Produced by Peter Bunetta & Rick Chudacoff (tracks 1 & 9), Michael Bolton (tracks 2, 5, 6, 7, 8, 10) , Desmond Child (track 5), Barry Mann (track 10), Guy Roche (track 7), & Michael Omartian (tracks 3, 4, 10), Susan Hamilton (track 2), Walter Afanasieff
Personnel
:
Michael Bolton: Vocals
Kyf Brewer, Jocelyn Brown, Joe Cerisano, Desmond Child, Robin Clark, Patricia Darcy, John Fiore, Milt Grayson, Jeanette Hawes, Richard Marx, Kate McGunnigle, Lou Merlino, Jeff Pescetto, Sharon Robinson, Vicki Sue Robinson, Leslie Smith, Fonzi Thornton, Joe Turano, Myriam Naomi Valle, Wanda Vaughn, Syreeta Wright: Vocal Backing
Dann Huff, Mike Landau, Steve Lukather, John McCurry: Guitars
Walter Afanasieff: Keyboards, Bass, Drums, Percussion
Michael Omartian: Keyboards, Drums, Percussion
Phillip Ashley, Robbie Buchanan, Brad Cole, Gregg Mangiafico, Barry Mann, Richard Tee, Diane Warren: Keyboards
Eric Rehl: Synthesizers
Schyuler Deale, Hugh McDonald, Neil Stubenhaus: Bass
Bobby Chouinard, John Keane, Chris Parker, John "J.R." Robinson: Drums
Paulinho da Costa: Percussion
Michael Brecker, Kenny G., Jerry Peterson: Saxophone
Many thanks to the original uploader: Shwartzenegger/jamgarro
**********
Download
: LOSSLESS
Uploaded
|
Depositfiles
|
Turbobit
|
Rusolder
**********
Download
: MP3
Uploaded
|
Depositfiles
|
Turbobit
|
Rusolder
Информация
Посетители, находящиеся в группе Гости, не могут оставлять комментарии к данной публикации.