Paranoise - Private Power (2000)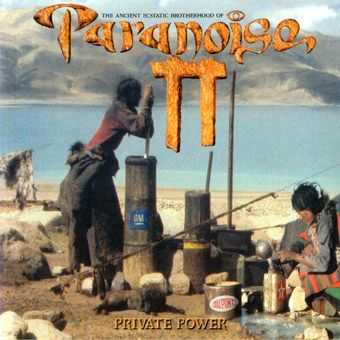 Исполнитель:
Paranoise
Альбом:
Private Power
Год выхода: 2000
Страна: USA
Жанр: Progressive Rock / Ethno-Rock / Fusion
Время: 65:11 min
Качество: Lossless / FLAC, image (log + cue)
Размер: 446 mb
Треклист:
Tracks:
1. Evil Vs. Evil. 3:14
2. Instability, Containment, Rollback. 4:58
3. Tetrahedral Metaphor. 6:40
4. Mechanical World. 4:56
5. International Monetary Fun. 4:57
6. Constant Fear. 4:44
7. Structural Adjustment. 8:40
8. Private Power. 6:08
9. Tarana. 4:49
10. Not There. 5:07
11. Centerless Grinding. 2:40
12. Monuments. 5:20
Total time: 65:11
Musicians:
Jim Matus: electric and acoustic guitars, dulcimer, Laouto, harmonium, sampling, backings
Thorne Palmer: lead vocals, acoustic guitar, lyrics
Geoffrey Brown: drums, percussion
Bob Laramie: five-string bass
Rohan Gregory: violin
Review:
QUOTE "At the end of the 20th century, I stand slack-jawed in horror in view of the dramatically increasing domination of the wealth and resources of the planet by a smaller and smaller segment of the population. This coupled with the almost complete disappearance of functioning democracy as a result of new international structures of finance and trade has systematically lowered the standard of living for the majority of people. The western world of patriarchy, technology and militarism is holding a gun to the head of the western world. The third world is on it's knees and blindfolded. In the next 25 years, this imperialist system may destroy every last remnant of indigenous cultureBy design, capitalism will seek out and destroy these people and their unique ways of interpreting reality and replace them with uninformed consumers of what amounts to a pre-progammed American diet. Having allowed this to happen as a result of ignorance and indifference, we as Americans are as guilty as the Germans in World War II who blindly followed the marchings of Hitler. It's out of control and we don't even know what it is that we don't know. What is it? You'll never find out by reading The New York Times or watching CNN. The media is owned by these same corporations hat hold the cards for pundits who introduce meaningless, hypnotic phrases like "Big Government" and "Support The Troops" and serve to perpetuate the system. Even the music industry is now part of this global market whole sole driving force is profit. The music on this record in some abstract way represents in my mind a model for interaction and third world indigenous people. By preserving the culture and extracting samples we can study it. Instead of changing and dominating their systems of order we can adjoin and build onto them and create a new civilization using the best from each. Hopefully the music we've created here does something like that. It attempts to collaborate in new ways using technology (sampling) thereby keeping the original music intact. Starting from there we've reharmonized and rearranged the original without destroying it, and tried to create something new using western musical systems and high-powered aggressive timbres and rhythms. The result being the weaving of a musical/mathematical partnership. A vast geometry. Hyperdimensional, ancient geometry." - Jim Matus As you can see from the above, this album has a political statement to get over and on listening to this album this comes over very clearly, one other thing that is evident right from the start is the third world influence within the music. The opening track 'Evil Vs. Evil' starts with what sounds like an Indian chant and soon after the music comes in, the chant is still there but in the background. The music is quite fast and furious, but very melodic and following the original chant, there's a nice break with some excellent violin work about two thirds through and then it's back to the fast and furious guitars.The next track 'Instability, Containment, Rollback', starts off with some sampled vocals, then the music comes in, this track has a slower beat than the previous track, but the musicianship is just superb. At this point I must say, that I found the lyrics very down to earth. To me the band are more concerned with getting the message across to the listener rather than write lyrics that don't make any sense or just rhyme for the sake of it. There's some excellent violin and guitar work.The third track 'Tetrahedral Metaphor', starts off with the third world influence and this continues throughout the track, but with Paranoise's style of progressive rock combined with some outstanding guitar work. Don't get me wrong the whole band play a major part in the music, but for me it's the textured guitar and violin that plays a huge part in the build up of the Paranoise sound. The next track 'Mechanical World', this is a slightly heavier sounding track and with the combination of guitar and violin comes over sounding quite a bit similar to Mahavishnu Orchestra. And I must admit the violin on this track is just stunning. 'International Monetary Fun', this is another track hat right from the start has a third world influence within the music. Paranoise seem to find it easy to take a small piece of music from a third world country and then build on it from there incorporating their own ideas. This track once again features some outstanding musicianship and also has some tribal drums, that sound similar to something I have heard on a Sepultura album, not that Paranoise' sound is anywhere near to that. Once again the guitar and violin work is simply superb.The sixth track 'Constant Fear', this is another track, that for me sounds a little similar in style to that of the Mahavishnu Orchestra. But that is mainly due to the way the violin sound is delivered. The next track 'Structural Adjustment', this is one of my favourite tracks, starting with digeridoo, before there's this fantastic rhythm that's come in, the vocals are a bit more subdued on this track, but build slightly for the chorus. I know the same words re repeated throughout the chorus, but for me that doesn't matter, the rhythm has this kind of hypnotic feel to it, that just keeps the listener wanting for more. This is quite a long track being nearly nine minutes and there are many changes in direction, mood and tempo throughout. Once again there some superb violin and stunning guitar work. 'Private Power', starts with tribal drum sounds, with sampled vocals and the track just builds up from then on, eventually getting quite a bit heavier. Heavy guitar, a strong drum sound and Thorne's powerful vocals. Once again, there are are many changes in direction, mood and tempo.
The ninth track 'Tarana', another favourite of mine, starts off with what I can now say is the usual third world influence and gradually the band are added to compliment and expand the sound.'Not There', this is another track in which the violin plays a major part, the vocals are once again excellent and the guitar work is stunning and for me has a kind of Zappareque style.The next track 'Centerless Grinding', another track that starts off with what sounds like Indian chanting, then the whole band comes in carrying on in the same vein. The rhythm fast and furious and is almost hypnotic with some outstanding guitar and violin over the top.The final track is 'Monuments', starts off with tribal drums, then the band comes following the same beat, there's some sampled voices before Thorne's vocals come in, not that he sings much on this track, his voice just follows the melody along. There are many changes throughout this track. This track reminds me quite a bit of some early progressive rock bands such as Comus, Esperanto and Beggars Opera. After about five and a half minutes, the music fades and in comes some more sampled voices with some chanting going on in the background. Paranoise combine samples of World music with progressive rock music. Not forgetting that this album also has a political statement to say too. For me, I thought that the album was excellent and loved the way in which Paranoise construct each track. This is an album that appeals right from the moment you press play and I know that I will be playing it quite a lot in the months to come. This album should appeal to lovers of good progressive rock music and to fans of such bands as Mahavishnu Orchestra.
Эти ребята в прогрессиве паралельно как Joe Zawinul в джазе! Вроде бы играет 100% этно, и в то же время это джаз, так же и этималые - вроде бы и этно, но в то же время и прог! Оба альбома прослушал с большим удовольствием!
Внимание! У Вас нет прав для просмотра скрытого текста.
Все ссылки на музыку, размещенные выше, представлены исключительно для ознакомительного прослушивания и расположены не на нашем сервере. Все файлы лежат на сторонних серверах, к которым сайт не имеет никакого отношения. Наш сайт является лишь блогом, на котором пользователи выкладывают ссылки на эти файлы, которые доступны публично. После прослушивания Вы обязаны удалить скачанные файлы и приобрести легальную копию.
Информация
Посетители, находящиеся в группе Гости, не могут оставлять комментарии к данной публикации.