Covered Call - Money Never Sleeps (2009) Repost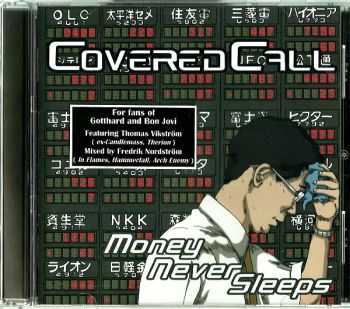 Covered Call (voc. Thomas Vikström) - Money Never Sleeps (2009)
MP3 CBR 320 kbps | 125.03 MB | SCANS | Time: 41:58
Genre: Rock, Melodic Hard Rock | Label: Blistering Records | Cat.#: BRO19
"Money Never Sleeps" is the debut of the five man Swedish band Covered Call. Formed in 2006 by drummer Ronny Svanströmer and guitarist Joel Carlsson, who recruited bassist Thomas Thulin and second guitarist Morgan Rosenquist before finding Ex: Candlemass and Therion vocalist Thomas Wikström to complete the lineup. At first listen "Money Never Sleeps" does not have any stand out tracks, but after a couple of listens you will find an album that is solid from beginning to end where the melody and hooks grab you and each song builds momentum for the next song.
Covered Call
|
Thomas Vikström
|
Thomas Vikström -- Wikipedia
|
Sleaze Roxx
Track Listing
:
1. All Because of Me (4:13)
2. Til' The End (4:15)
3.
Shine (Mr. Big cover)
(3:43)
4. Never Again (5:20)
5. Anything You Want (4:23)
6. I Wanna Be Free (4:06)
7. Nothing at All (3:20)
8. Money Never Sleeps (4:11)
9. What About Us (3:50)
10. Let's Make it Real (4:37)
Produced by Ronny Svanströmer and Joel Carlsson
THE BAND
:
Morgan Rosenquist: guitar
Ronny Svanströmer: drums
Joel Carlsson: guitar
Thomas Vikström: vocals
Thomas Thulin: bass
Johan Palmberg: piano
Ola Johansson: guitar
*******
Download
Uploaded
|
Turbobit
|
Rusfolder
Информация
Посетители, находящиеся в группе Гости, не могут оставлять комментарии к данной публикации.