John Lees - A Major Fancy (1977) [Eagle Records, 1999] Repost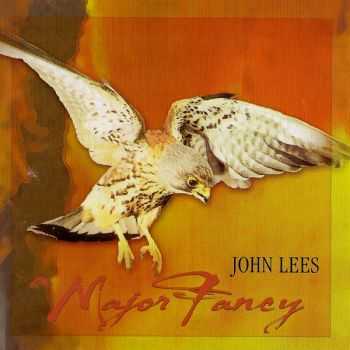 John Lees (Barclay James Harvest) - A Major Fancy (1977)
MP3 CBR 320 kbps | 128.43 MB | SCANS | Time: 52:20
Genre: Rock, Progressive Rock, Crossover Prog | Label: Eagle Records | Cat.#: EAGCD107
A Major Fancy is Lees's paintbrush of rock music, done outside Barclay James Harvest despite that not completely disconnected from the big band. The recording finished in 1972, but everything went on stand-by until late 1976-1977. As the grand vocalist in BJH, Lees receive, right here, both a greater freedom of expression and a weaker kind of inspiration. His album is placid (even lowly significant) but fruitful, plotted on an unforgettable serenity, nevertheless full of flavor. A natural thought is that the foursome of BJH would contribute, even slightly, to the album's music, but Lees does, indeed, an independent work, with a lot of different artists, who blend so powerfully with the music (except some special moments), that they don't really shine - at least not obviously. Of course, the fullest of the music shares the BJH tendency (though I myself wouldn't know that much), but, similarly, has better (unique) or weaker breaks.
John Lees
|
Barclay James Harvest
|
Wikipedia
Track Listing
:
1. Untitled No.1 - Heritage (7:55)
2.
Child Of The Universe
(6:17)
3. Kes (A Major Fancy) (2:33)
4. Untitled No.2 (3:52)
5. Sweet Faced Jane (5:05)
6. Witburg Night (5:48)
7. Long Ships (5:21)
8. Untitled No.3 (5:03)
CD bonus tracks:
9. Please Be With Me (2:49)
10.
Best Of My Love
(3:40)
11. You Can't Get It (3:57)
Produced by Wally Waller
LINE-UP
:
John Lees - vocals, guitars
Wally Waller - bass, melotron, moog, timbals, harmony vocals
Skip Allen - drums, percussion
Gordon Edwards - piano
Graham Preskett - violin, choir and strings arrangement
Eric Stewart - acoustic guitar (3)
Kevin Godley - ashtray, beer bottle and fire extinguisher (4)
Rod Argent - organ (1)
Rex Morrison - tenor saxophone (5)
Guest musicians on CD bonus tracks:
Les Holroyd - bass
B.J. Cole - slide guitar
Mike Moran - piano
*******
Download
Uploaded
|
Turbobit
|
Rusfolder
Информация
Посетители, находящиеся в группе Гости, не могут оставлять комментарии к данной публикации.