Maestoso - One Drop In A Dry World (2004)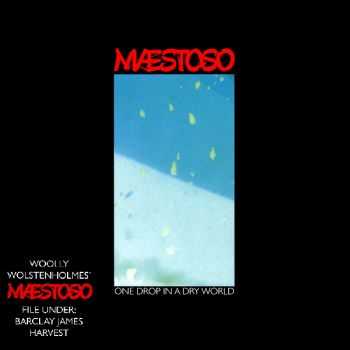 Maestoso (Woolly Wolstenholme, Barclay James Harvest) - One Drop In A Dry World (2004)
MP3 CBR 320 kbps | 145.19 MB | SCANS | Time: 51:19
Genre: Rock, Progressive Rock, Eclectic Prog | Label: Eclectic Discs | Cat.#: ECLCD 1008
A new CD of the Black Box sessions with previously unreleased material (including a brand new demo) was released in February 2004 as Black Box Recovered, and a new studio set, One Drop In A Dry World, followed in May 2004. A short UK tour was planned to promote the CD, but in the event only one concert, at London's Mean Fiddler, went ahead, on May 12th. The live set, including rarely heard BJH classics as well as Mæstoso material, was captured for posterity and released on a limited, warts and all live CD, Fiddling Meanly, released in February 2005. On 27th November 2004 Mæstoso played again in London, this time as support to Caravan at the Bloomsbury Theatre. At this show John Lees also made a surprise guest appearance for two songs.
Woolly Wolstenholme
|
Barclay James Harvest
|
Wikipedia
|
Progarchives
Track Listing
:
1. The Bells, The Bells! (1:38)
2. Blood & Bones (Tod in Venedig/Requiem/Reprise) (5:17)
3. A Waiting Game (4:00)
4. It's U (The Sixties Mix) (3:26)
5.
Souk
(5:11)
6. One Drop in a Dry World (7:10)
Interval
7. A.N.S.S. (4:35)
8. The End of The Road (2:57)
9. Explorers (4:04)
10. 2 A.M. (The Unanswered Question) (5:03)
11. The Starving People of the World All Thank You for Your Time (2:23)
12. Carpet (A Four Gong Conclusion) (5:35)
Produced by Woolly Wolstenholme
LINE-up
:
Woolly Wolstenholme: voice, mellotron, acoustic and electric 12-string guitars, keyboards, percussion, toy bugle
Craig Fletcher: voice, 4-string/5-string/fretless bass, double bubble, percussion, corkscrew
Kevin Whitehead: drums, percussion, Dark Lord of the Rumcha Box
Steve Broomhead: voice, electric and acoustic guitars, Japan banjo, didgeridoo, balalaika, musical saw
*******
Download
Uploaded
|
Turbobit
|
Rusfolder
Информация
Посетители, находящиеся в группе Гости, не могут оставлять комментарии к данной публикации.