Steve Hackett - Spectral Mornings (1979) [Japan Mini-LP CD 2006]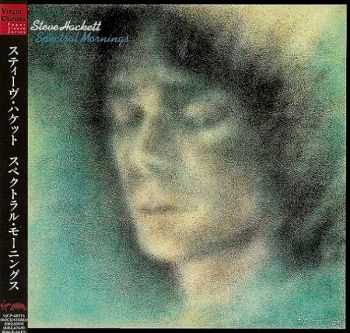 Steve Hackett - Spectral Mornings (1979) [Japan Mini-LP CD 2006]
MP3 CBR 320 kbps | 178.47 MB | SCANS | Time: 1:13:19
Genre: Rock, Progressive Rock | Label: Toshiba-EMI Ltd. | Cat.#: VJCP-68775
Spectral Mornings is the third release and the second post-Genesis album by British guitarist Steve Hackett. The album is the first recording to feature Hackett's first true touring band, consisting of his brother John Hackett on flute, guitar and bass pedals, long-time collaborator keyboardist Nick Magnus, bassist/vocalist Dik Cadbury, drummer John Shearer and vocalist Peter Hicks. In 2005, Spectral Mornings was remastered and re-released on Virgin Records. The new edition features updated liner notes and seven bonus tracks.
To his credit, Steve Hackett learned from the mistakes made on Please Don't Touch, and delivered a much-improved mix of songs and instrumentals on 1975's Spectral Mornings. With a workable backing band that includes John Shearer, Nick Magnus, and former Decameron bassist Dik Cadbury, the ex-Genesis guitarist exploits his strengths: progressive instrumentals that skip between heaven and hell, pastoral pop songs, and a healthy dose of English humor. Vocalist Peter Hicks takes the lead on a few tracks, and as the honey-fied "The Virgin and the Gypsy" makes clear, his voice is much better suited to the material than Richie Havens. Hackett's lone vocal cameo, "The Ballad of the Decomposing Man," is a Pythonesque treat. The guitar work is typically top-notch, equally effective in acoustic sections that feature John Hackett's flute and in tempestuous arrangements where Steve's trademark electric guitar pierces through the chaos. The guitarist also extends his range to the Cantonese koto (presumably a variation on the Japanese koto) for the delicate instrumental "The Red Flower of Tachai Blooms Everywhere"; in typically mischievous fashion, it lulls the listener into a false sense of relaxation for the sonic onslaught of "Clocks -- The Angel of Mons." For many, Voyage of the Acolyte is the definitive Hackett record, but Spectral Mornings is more indicative of his range as a solo artist. The music is true to progressive rock in sound if not in scope, a trait which endears Hackett to Genesis fans who found that band's subsequent commercialization distasteful.
~ Review by Dave Connolly (AllMusic)
Steve Hackett
|
Wikipedia
Track Listing
:
1. Every Day (6:15)
2. The Virgin And The Gypsy (4:28)
3. The Red Flower Of Tachai Blooms Everywhere (2:06)
4. Clocks - The Angel Of Mons (4:15)
5. The Ballad Of The Decomposing Man (3:49)
6. Lost Time In Cordoba (4:05)
7. Tigermoth (7:34)
8.
Spectral Mornings
(6:37)
(Bonus Tracks)
9. Every Day (Alternate Mix) (7:08)
10. The Virgin And The Gypsy (Alternate Mix) (4:26)
11. Tigermoth (Alternate Mix) (3:19)
12. The Ballad Of The Decomposing Man (Alternate Mix) (4:23)
13. Clocks - The Angel Of Mons (Single Version) (3:37)
14. Live Acoustic Set - Medley: Etude In A Minor / Blood On The Rooftops / Horizons / Kim (5:39)
15. Tigermoth (Live) (3:58)
16. The Caretacker [Extra track (No Music)] (1:40)
Produced by John Acock & Steve Hackett
LINE-up
:
Steve Hackett: guitars, Roland guitar synth, koto (cantonese), harmonica, vocals, extras
Pete Hicks: lead vocals and harmonies
Dik Cadbury: bass, bass pedals, violin, vocals
Nick Magnus: keyboards, vox string thing, novotron, harpsichord, clavinet, RMI, fender rhodes, mini moog Roland string synth & SH 2000
John Hackett: flutes, concert and chinese bamboo models, bass pedals
John Shearer: drums and percussion
Digital Remaster © 2005 Virgin Records Ltd.
*****
Download
Uploaded
|
Turbobit
|
Rusfolder
Информация
Посетители, находящиеся в группе Гости, не могут оставлять комментарии к данной публикации.