Roy Wood - Mustard (1975) [Reissue 1999]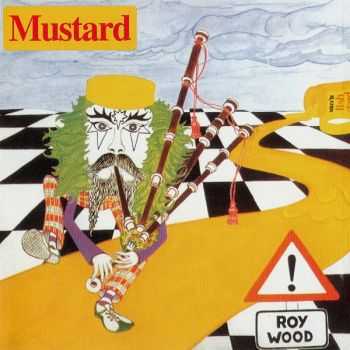 Roy Wood (ELO, Wizzard, The Move, The Idle Race) - Mustard (1975) [Reissue 1999]
MP3 CBR 320 kbps | 163.33 MB | SCANS | Time: 1:08:39
Genre: Rock, Psychedelic Pop, Art Rock | Label: Pirate Label | Cat.#: RWCD 1100020275
Mustard is the second solo album by Roy Wood, who wrote and produced every track and painted the cartoon-style cover. It was completed and released about the same time as he disbanded his group Wizzard. He played all the instruments, and contributed all vocals apart from guest appearances by Annie Haslam, Phil Everly, ex-Move and Wizzard bassist Rick Price, and co-engineer Dick Plant.
Unlike Boulders, Mustard is designed as a full-fledged album instead of a collection of pop vignettes. Outside of Wood's love for Brian Wilson there's no concept, yet it flows smoothly and attractively, since each song sounds like an epic pop extravaganza in miniature. In a typically perverse turn, Wood opens the record with a scratchy parody of the Andrews Sisters, tackling the harmonies with sped-up vocal tapes, but as soon as "Any Old Time Will Do" kicks off, it's clear that this is a shining, glittering pop record. There isn't much of his signature absurdist humor or quirky studio effects, apart from the jaw-dropping "You Sure Got It Now," a masterwork that Wood claims "sounds like the Andrews Sisters backed by John Mayall," yet it isn't missed since the studiocraft on Mustard is quite alluring. Where Boulders felt homemade, almost pastoral, Mustard is unabashedly grand, bolstered by endlessly layered harmonies, chiming keyboards, and cavernous productions. The Beach Boys influences shine brightly on "Why Does a Pretty Girl Sing Those Sad Songs" and "Look Thru' the Eyes of a Fool," and are inescapable on the gorgeous ballad "The Rain Came Down on Everything." Wood never really rocks out until the multi-segmented closer, "Get on Down Home" and even if it's the one misstep, it hardly detracts from the pop wonders that precede it. Mustard might not equal the brilliantly maverick Boulders, yet it's easily one of the best, most cohesive records Wood ever made and one of the few to capture him as a (relatively) focused pop craftsman. [Edsel's 1999 CD reissue of Mustard is graced by no less than seven bonus tracks, all A- and B-sides of non-LP singles, highlighted by "Oh What a Shame" and "Indiana Rainbow."] ~ Review by Stephen Thomas Erlewine
Wikipedia
|
Allmusic
Track Listing
:
1. Mustard (1:30)
2. Any Old Time Will Do (4:13)
3. The Rain Came Down On Everything (6:35)
4. You Sure Got It Now (5:30)
5. Why Does A Pretty Girl Sing Those Sad Songs (4:34)
6. The Song (6:36)
7.
Look Thru The Eyes Of A Fool
(2:56)
8. Interlude (1:24)
9. Get On Down Home (7:32)
Bonus tracks:
10. Oh What A Shame (3:51)
11. Bengal Jig (2:13)
12. Rattlesnake Roll (4:02)
13. Can't Help My Feelings (5:13)
14. Strider (2:51)
15. Indiana Rainbow (3:54)
16. The Thing Is This (This Is The Thing) (5:45)
Produced by Roy Wood
Roy Wood - vocals/guitars/oboe/cello/bass/keyboards/bassoon/string bass/tenor & baritone sax/percussion
Dave Donovan - drums
Phil Everly, Annie Haslam, Dick Plant - vocals
Rick Price - bass/percussion/vocals
*****
Download
Uploaded
|
Turbobit
|
Rusfolder
Информация
Посетители, находящиеся в группе Гости, не могут оставлять комментарии к данной публикации.