Bill Bruford - Feels Good To Me (1977) [Japan Mini-LP CD 2005]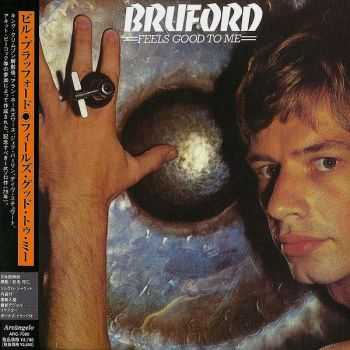 Bill Bruford (Bruford) - Feels Good To Me (1977) [Japan Mini-LP CD 2005]
MP3 CBR 320 kbps | 123.97 MB | SCANS | Time: 52:21
Genre: Jazz Rock, Fusion, Prog-Rock | Label: Arcangelo | Cat.#: ARC-7090
Дебютный сольный альбом британского барабанщика Билла Бруфорда. Не совсем шедевр, а вот женский вокал на удивление хорош, да и cостав участников довольно интересный.
After a decade in the business playing with Yes, King Crimson, Genesis and UK, Bill Bruford's first solo album finds him going in the jazz direction his career would eventually exclusively become. The music on this album was written between January and June 1977 rehearsed for three weeks and recorded and mixed at Trident Studios in London, August 1977.
Bill Bruford
|
Wikipedia
|
Allmusic
Track Listing
1. Beelzebub (3:27)
2. Back To The Beginning (7:26)
3. Seems Like A Lifetime Ago (Part One) (2:31)
4. Seems Like A Lifetime Ago (Part Two) (4:33)
5.
Sample And Hold
(5:19)
6. Feels Good To Me (3:58)
7. Either End Of August (5:30)
8. If You Can't Stand The Heat... (3:28)
9. Springtime In Siberia (2:41)
10. Adios A La Pasada (Goodbye To The Past) (8:49)
11. Joe Frazier (Bonus track) (4:39)
Bonus track 'Joe Frazier', recorded at the Park West, Chicago, IL. 27.7.79
Produced by Robin Lumley & Bill Bruford
THE PLAYERS
Bill Bruford: tuned and untuned percussion, kit drums, tunes and final say
Dave Stewart: keyboards - reasonably advanced harmonic advice
Allan Holdsworth: guitar
Annette Peacock: vocal
Jeff Berlin: bass
with:
Kenny Wheeler: flugelhorn
John Goodsall: additional guitar on 6
John Clark: guitar on 11
Neil Murray: additional bass player when i needed one
Remastered by John Burns, Hatch Farm Studios, Surrey UK. January 2005
*****
Download
Uploaded
|
Turbobit
|
Rusfolder
Информация
Посетители, находящиеся в группе Гости, не могут оставлять комментарии к данной публикации.