Jim Pembroke - Corporal Cauliflowers Mental Function (1977) [Reissue 1997]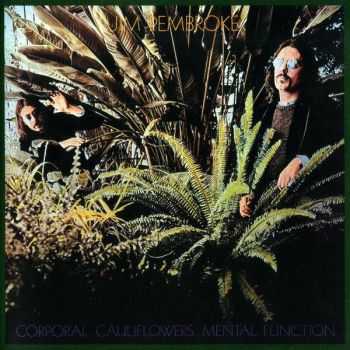 Jim Pembroke (Wigwam) - Corporal Cauliflowers Mental Function (1977) [Reissue 1997]
MP3 CBR 320 kbps | 119.78 MB | SCANS | Time: 37:40
Genre: Rock, Psychedelic Pop Rock | Label: Love Records/Siboney | Cat.#: LRCD 214
In spring 1977 Pembroke released his third album, Corporal Cauliflowers Mental Function, which like Pigworm was produced by Groundstroem and Österberg. This time the cast consisted of Österberg, Rechardt and Hessu Hietanen (on one track only) of Wigwam, bassist Paavo Maijanen, Swedish guitarist Coste Apetrea, saxophonist Eero Koivistoinen, in addition to whom a horn section was used. Corporal Cauliflower... features Pembroke at his finest. The album combines the best parts of his previous works even with excellent sounds. Despite critical acclaim, like the other albums, this record didn't become a commercial success. In fact, Virgin, to whom Wigwam and Pembroke were signed in the UK, refused to release the album as they wanted a Wigwam album for the British market.
Wigwam
|
Wikipedia
|
Amazon
Track Listing
:
1. Corporal Punishment (2:36)
2. Bertha Come Back (2:46)
3. Island Town (3:52)
4. Masquerade At The White Palace (3:51)
5. Skobiit Party Civilised Session (4:13)
6. Knockknockknock (The Revolution Of Love) (5:01)
7. All Over Too Soon (2:53)
8. Earring Is Believing (4:04)
9. A Better Hold (And A Little View) (3:05)
10. Goddammadog (The Horse) (5:19)
Produced by Måns Groundstroem & Ronnie Österberg
Recorded at Marcus Music (SWE) October/November 1976
PERSONNEL
:
Jim Pembroke: piano, vocals
Ronnie Österberg: drums
Rekku Rechardt: guitars
Coste Apetrea: guitars
Paavo Maijanen: bass, harmonies
Eero Koivistoinen: sax & horn arrangements
Hessu Hietanen: accordion
*****
Download
Uploaded
|
Turbobit
|
Rusfolder
Информация
Посетители, находящиеся в группе Гости, не могут оставлять комментарии к данной публикации.