Steve Hackett - Defector (1980) [Japan Mini-LP CD 2006]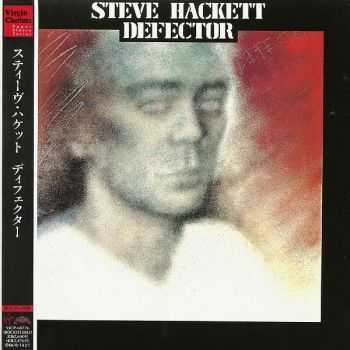 Steve Hackett - Defector (1980) [Japan Mini-LP CD 2006]
MP3 CBR 320 kbps | 157.08 MB | SCANS | Time: 59:38
Genre: Rock, Progressive Rock | Label: Toshiba-EMI Ltd. | Cat.#: VJCP-68776
Defector was the fourth solo album from former Genesis guitarist Steve Hackett. It was released in 1980 on the Charisma label. In 2005, Defector was remastered and re-released on Virgin Records. The new edition features updated liner notes and five bonus tracks.
Steve Hackett
|
Wikipedia
Track Listing
:
1. The Steppes (6:06)
2. Time To Get Out (4:12)
3. Slogans (3:57)
4. Leaving (3:04)
5. Two Vamps As Guests (1:55)
6.
Jacuzzi
(4:36)
7. Hammer In The Sand (3:10)
8. The Toast (3:42)
9.
The Show
(3:40)
10. Sentimental Institution (2:44)
(Bonus Tracks)
11. Hercules Unchained (B-side of "The Show") (2:44)
12. Sentimental Institution (Live at The Theatre Royal, Drury Lane) (3:02)
13.
The Steppes (Live at the Reading Festival)
(6:33)
14. Slogans (Live at the Reading Festival) (4:19)
15. Clocks - The Angel of Mons (Live at the Reading Festival) (5:54)
Produced by Steve Hackett and John Acock
LINE-up
:
Steve Hackett: guitar, vocal, optigan, roland GR500
Nick Magnus: keyboards
John Hackett: concert and alto flute
Pete Hicks: vocal
John Shearer: drums and percussion
Dik Cadbury: bass, vocal
Digital Remaster © 2005 Virgin Records Ltd.
The album is a mixture of smart instrumentals and pleasant vocal pieces featuring Pete Hicks as lead vocalist, though Steve himself would take the odd vocal now and then. Steve makes excellent use of the Roland GR500 guitar synthesizer, which gives the impression at times of several guitarists playing in harmony like the twin guitar leads of Thin Lizzy or Wishbone Ash.
Defector is Steve Hackett's last really good album for quite a while, and although not quite as strong as the previous three, it is well worth having in anyone's Genesis-centric collection.
*****
Download
Uploaded
|
Turbobit
|
Rusfolder
Информация
Посетители, находящиеся в группе Гости, не могут оставлять комментарии к данной публикации.