Windchase - Symphinity (1977) [Japanese Ed. 1992]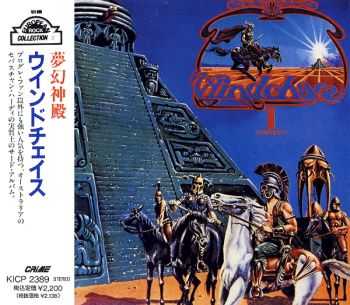 Windchase - Symphinity (1977) [Japanese Ed. 1992]
Mp3 CBR 320 kbps | 130.29 Mb | Scans | Time: 46:04
Genre: Progressive Rock, Symphonic Prog, Jazz-Fusion | Label: King Records Co., Ltd./Crime | Cat.#: KICP 2389
After the success of "Four Moments" in 1975, Australian band SEBASTIAN HARDIE issued "Windchase" the following year. After the band split-up, its leader, guitar player, and singer Mario MILLO recorded "Symphinity" (1977), adopting for his new line-up the name of this last album. Far from being a copy, this magnificent album is slightly different from the quartet's releases, due to the fact that they added to their typically lyrical and romantic music, a certain GENESIS-like influence that is most welcome. There is also the integration, as natural as it may seem, of a guitar and of percussions that sound as if they had directly come from a album by SANTANA. The musicians even go further by getting close to a relatively dark (!) jazz-rock fusion on the track "Lamb's Fry". However technique and a little show-off as well as sounding as an heir to COLOSSEUM II, this composition that lasts about ten minutes manages to remain accessible and in the same category as the previous albums.
Amazon
Sebastian Hardie
|
Mario Millo
|
Wikipedia
|
Progarchives
Track Listing
1. Forward We Ride (1:40)
2.
Horsemen To Symphinity
(8:31)
3. Glad To Be Alive (8:09)
4. Gypsy (5:11)
5. No Scruples (6:29)
6. Lamb's Fry (9:34)
7. Non Siamo Perfetti (1:59)
8. Flight Call (4:31)
Produced by Gerry Stevens & Windchase
The Band
Mario Millo - Vocals, Gibson S1, Gibson L5-S, Mandolin, Acoustic guitars, Tubular bells
Toivo Pilt - Hammond C3 L-111 Organ, Grand Piano, Mini Moog, Fender Rhodes, Mellotron, Arp 2600, Solina, Omni string synth, clavinet D6, handclaps and vocals
Doug Bligh - Drums, Percussion (various), Backing vocals and Handclaps
Duncan McGuire - Bass guitar
Guest:
Doug Nethercote - bass guitar on ‹Glad To Be Alive› and ‹No Scruples›
Ⓟ 1977 Festival Records Pty. Limited
*****
Download
Uploaded
|
Turbobit
|
Rusfolder
Информация
Посетители, находящиеся в группе Гости, не могут оставлять комментарии к данной публикации.