Raven Sad - Quoth (2008)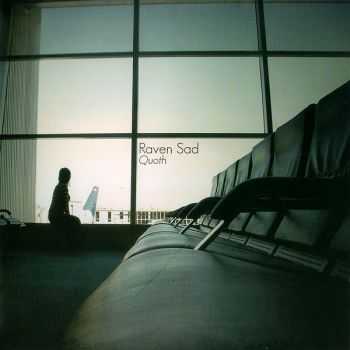 Raven Sad - Quoth (2008)
MP3 CBR 320 kbps | 140.92 Mb | Scans | Time: 52:58
Genre: Rock, Progressive Rock, Psychedelic/Space Rock | Label: Lizard Records | Cat.#: CD 0056
"Quoth" is a production that should appeal to most people looking for mellow, carefully assembled psychedelic progressive rock, in particular if intrigued by dark and slightly unnerving moods and atmospheres. The compositions as such are mostly innovative and at times really creative, and even though it has a few weak points this is an album that can be heartily recommended.
Lizard Records
|
Progarchives
|
ProgressoR
Track Listing
1. Have No Time (5:11)
2. Night (2:31)
3. Stars (3:54)
4. Ravens Floating In Space (4:40)
5. Talk To Me (3:54)
6. Those Good Words (5:39)
7. The Sad Raven Song (6:17)
8. Bartender (3:48)
9. Try To Understand (5:22)
10. The Hell We Have (4:05)
11. Raven's Journey (3:26)
12. In The End (4:11)
Executive production by Samuele Santanna, Raven Sad and Lizard Records
The Band
Samuele Santanna - vocals, guitars, bass, loops
Gabriele Cecconi - keyboards, piano
Fabrizio Trinci - keyboards, synths
Luca Boldrin - synthesizers; flute
Giacomo Cipriani - bass
Fausto Amatucci - drums
Cosimo Chiaramonti - vocals
Giulia Bizzarri - vocals
Marco Tuppo - samples
*****
Download
Uploaded
|
Turbobit
|
Rapidgator
|
Rusfolder
Информация
Посетители, находящиеся в группе Гости, не могут оставлять комментарии к данной публикации.