Mystery - Destiny? (1998) [10th Anniversary Ed. 2009]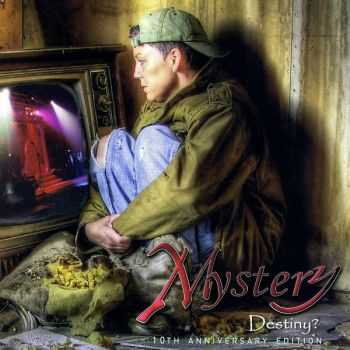 Mystery - Destiny? (1998) [10th Anniversary Ed. 2009]
MP3 CBR 320 kbps | 169.41 Mb | Scans | Time: 1:04:26
Genre: Rock, Progressive Rock, Neo-Prog | Label: Unicord Digital Inc. | Cat.#: UNCR-5060
Destiny? is the second studio album by the Canadian progressive rock band Mystery. Released in 1998, it is the last Mystery album to feature Gary Savoie on lead vocals, as well as the first to feature Patrick Bourque on bass and Steve Gagné on drums. Destiny? was reissued in 2009 as a 10th anniversary edition with a new mix, a bonus track and new artwork.
Mystery
|
Wikipedia
|
Review
Track Listing
1. Legend (2:42)
2.
Destiny
? (4:57)
3. Slave To Liberty (5:42)
4. Before The Dawn (6:34)
5. Queen Of Vajra Space (9:35)
6. The Mourning Man (4:49)
7. Submerged (8:03)
8. Shadow Of The Lake (15:11)
9. Heaven Can Wait (Bonus track) (6:53)
Produced by Michel St-Père
The Band
Gary Savoie - lead and back vocals
Michel St-Père - guitars, keyboards
Patrick Bourque - bass
Steve Gagné - drums
Additional musicians:
Diane Hébert - back vocals on 'Queen of Vajra Space'
Olivier Demers - violin
Serge Gangloff - special FX
Dré - strange personalities
Anne Gangloff - French narration
Kiwi - The dog
10th Anniversary Edition
Digitally remixed and mastered
*****
Download
Uploaded
|
Turbobit
|
Rusfolder
Информация
Посетители, находящиеся в группе Гости, не могут оставлять комментарии к данной публикации.