Alex Bollard Assembly - Alan Parsons Songbook (1993)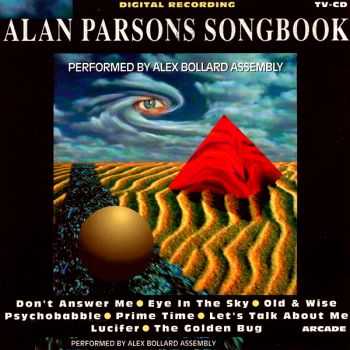 Alex Bollard Assembly - Alan Parsons Songbook (1993)
MP3 CBR 320 kbps | 188.09 MB | SCANS | Time: 1:08:07
Genre: Rock, Progressive Rock, Art Rock | Label: Arcade Deutschland GmbH | Cat.#: 8800070
The Alan Parsons SongBook is an album to give you the opportunity to enjoy the music of the Alan Parsons Project played by The Alex Bollard Assembly and to accompany these vital musicians on their trip to the exciting experience of unlimited sound possibilities.
All pieces in this "Alan Parsons SongBook" are spellbinding, mindbending, hypnotic. With all their variety - and there is a huge range of dynamics in the songs, written by Parsons and Woolfson - there is always a sense of unity and peace, nature and silence and personal thought. It is almost as if Alan and Eric had set out to produce only classics, masterpieces - and calmly went ahead and did just that.
The wonderfully rich, vibrant sound to The Alex Bollard Assembly never had more intrinsically superb material to apply itself to than on this compact disc. Together the 19 highlights from the SongBook of Alan Parsons form a collection of tunes that are indisputably outstanding.
============
Alan Parsons (1948) is one of England's most musical phenomenons [sic]. He was so blown away be [sic] hearing the Beatles "Sgt. Pepper's Lonely Hearts Club Band" album in 1967, that he applied for and successfully landed a job at the famous Abbey Road Studios in London. Parsons worked with the Beatles on the "Abbey Road" album and continued his relationship with Paul McCartney, recording "Wild Life" and "Red Rose Speedway". He also was nominated for a Grammy Award for recording Pink Floyd's classic "Dark Side Of The Moon". In 1974 Alan Parsons met Eric Woolfson, who was soon to function as Alan Parsons' manager and shortly thereafter as his musical partner. Alan and Eric started The Alan Parsons Project and their explorations into the sound and structure of symphonic pop music led to several wonderful albums during the 1970s and the 1980s. The Project's first album was "Tales of Mystery and Imagination" which was recorded over a two year period. It met with good, though not overwhelming, public response. The "I Robot" album (1977) was a huge success. Some artists with new and innovative ideas run out of creative fuel after a time, but The Alan Parsons Project has continued to evolve and to take their own music higher and further.
Among the Project's best albums are "Eve" (1979), "The Turn Of A Friendly Card" (1980) "Eye In The Sky" (1982), "Vulture Culture" (1985), and "Gaudi" (1987).
Alan Parsons Music
|
Alan Parsons Project
Wikipedia
Track Listing
:
1.
Don't Answer Me
(3:48)
2. Old & Wise (3:08)
3.
Eye In The Sky
(4:34)
4. Time (4:43)
5. Mamma Gamma (1:41)
6. Prime Time (4:40)
7. I Wouldn't Want To Be Like You (3:34)
8. Let's Talk About Me (3:59)
9. The Golden Bug (2:59)
10. Psychobabble (4:25)
11.
The Turn Of A Friendly Card
(4:26)
12. Snake Eyes (3:11)
13. Lucifer (2:42)
14. Days Are Numbers (4:08)
15. The Raven (3:29)
16. Pipeline (2:42)
17. What Goes Up (3:07)
18. I Robot (4:00)
19. Genesis CH.1 V. 32 (2:51)
Produced by Alex Bollard & Ed Starink
LINE-up
:
Synthesizers: Ed Starink
Guitars: Alex Bollard
Vocals: Edward Reekers
*****
Download
Uploaded
|
Turbobit
|
Rusfolder
Информация
Посетители, находящиеся в группе Гости, не могут оставлять комментарии к данной публикации.