It Bites - Eat Me In St. Louis (1989) [Japan Mini-LP CD 2006]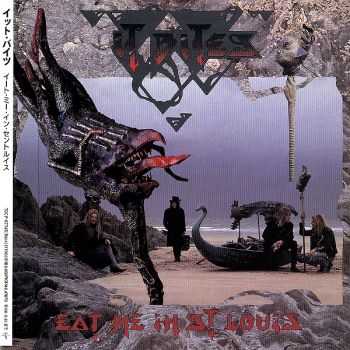 It Bites - Eat Me In St. Louis (1989) [Japan Mini-LP CD 2006]
MP3 CBR 320 kbps | 154.06 MB | SCANS | Time: 55:28
Genre: Rock, Art Rock, Crossover Prog | Label: Toshiba-EMI Ltd. | Cat.#: TOCP-67745
Eat Me in St. Louis is the third album by British progressive pop/rock band It Bites. The album title was also reused for a compilation album by the band, aimed at the US market. Eat Me in St. Louis saw It Bites move away from the progressive rock and pop influences of their two previous albums and towards a more hard rock sound with more straightforward compositions and a heavier, rawer sound. The album was recorded in Munich and produced by Reinhold Mack, best known for his work with Queen.
It Bites
|
Wikipedia
Track Listing
:
1. Positively Animal (4:35)
2.
Underneath Your Pillow
(5:26)
3. Let Us All Go (4:11)
4. Still Too Young to Remember (4:57)
5. Murder of the Planet Earth (3:48)
6. People of America (4:14)
7. Sister Sarah (4:19)
8. Leaving Without You (4:54)
9. Till the End of Time (4:13)
10. The Ice Melts Into Water (7:15)
11. Charlie (instrumental) (7:36)
Produced by Reinhold Mack & It Bites
THE BAND
:
Francis Dunnery - lead vocals, guitars, tapboard, backing vocals
Dick Nolan - bass, backing vocals
Bob Dalton - drums, backing vocals
John Beck - piano, synthesizers, backing vocals
Digitally remastered reissue. Originally released in 1989. Comes housed in a cardboard sleeve. Part of a four-album reissue series from It Bites featuring the albums "The Big Lad In The Windmill," "Once Around The World," "Eat Me In St. Louis," and "Thank You And Goodnight."
DIGITAL REMASTER Ⓟ & Ⓒ 2005 VIRGIN RECORDS, LTD.
*****
Download
Uploaded
|
Turbobit
|
Rusfolder
Информация
Посетители, находящиеся в группе Гости, не могут оставлять комментарии к данной публикации.