Mario Millo - Oceans Of The Mind (2001)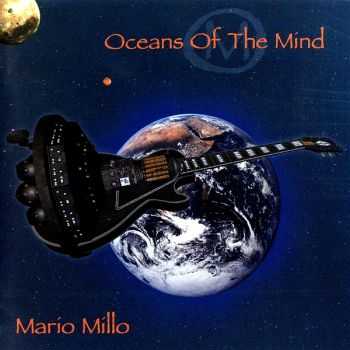 Mario Millo (ex: Sebastian Hardie, Windchase) - Oceans Of The Mind (2001)
MP3 CBR 320 kbps | 109.6 Mb | Scans | Time: 44:15
Genre: Rock, Progressive Rock, Symphonic Prog | Label: Red Moon Music | Cat.#: RED 01-008
Who would have imagined that the son of some Italian immigrants was going to personify the elegance of Anglo-Saxon music ? Still, Mario MILLO has become the creator of a certain kind of sunny steady rock, usually typical of Californian beaches. We have to say that this guitarist-singer is nevertheless an Australian, the same nationality as LITTLE RIVER BAND (A band that sometimes performs a quite similar music)! Even if the Latin roots are imperceptible at first, they are still part of all his works and give this music an undeniable character. This translates into an ethereal romanticism in the style of "Romeo And Juliet". But after all, wasn't it William SHAKESPEARE (A British author) who wrote this ?... He has developed his innate sense of melody since the Seventies, with the Progressive rock legend SEBASTIAN HARDIE, an absolute reference of symphonic and romantic music. After the WINDCHASE experience, he started a solo career, marked by numerous soundtracks in his country. Recorded in 1979, "Epic III" particularly enhances the eponymous suite. A 14-minute long track, it presents a kind of Progressive rock inspired by SEBASTIAN HARDIE (Ethereal symphonic), WINDCHASE (Some SANTANA influences), YES and HAPPY THE MAN (The musicians and the general tone) and... ECHOLYN (Let's just mention that those Americans have started their professional career in the Nineties...) !!! This album, by the way, shows a remarkable diversity, between symphonic and Progressive rock, songs and romantic ballads... This is an example of what turned out to be an impressive discography that gives us today the excellent "Oceans Of The Mind" (2002), definitely symphonic and with discreet allusions to jazz or blues. The tracks' structure is smart, and re-take from time to time, some theme developed on the first one. A concept-album of a sort ! Faithful to his quality ideals and mania to find the perfect melody, the singer shows lyrical vocal lines, underlined by an amazing guitar both in feeling and style. Those elegant and flawless riffs definitely include inspiration from Carlos SANTANA and Andy LATIMER (CAMEL). A brass section is also on this album, as well as a mandolin and choirs mainly sung by Jess MILLO (The artist's daughter !). Mario MILLO manages the improbable tour de force of gathering next to the same speaker the fans of melodic rock and Progressive rock. No doubt about it: this is la Dolce Vita !!!
Sebastian Hardie
|
Mario Millo
|
Wikipedia
|
Progarchives
|
Musea Records
Track Listing
1. Faith In Art (6:53)
2. Satellite (5:59)
3.
Sportscar
(4:56)
4. Soulful Experience (5:47)
5. Survive (5:59)
6. Oceans Of The Mind (4:46)
7. World Of Love (6:03)
8. Those Days Are Gone (3:52)
Produced by Mario Millo
Line-up
Mario Millo : guitars, lead vocals, Hammond organ, mandolins
Jeff Camilleri : bass, backing vocals
Robbie Siracusa : drums
Jess Millo : backing vocals
Dave Wilkins : backing vocals
David Hirschfelder : Nord synthesizer
*****
Download
Uploaded
|
Turbobit
|
Rusfolder
Информация
Посетители, находящиеся в группе Гости, не могут оставлять комментарии к данной публикации.