John Lees - A Major Fancy (1977) [Deluxe Edition, Remastered 2010]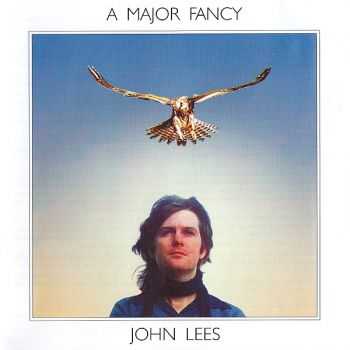 John Lees (Barclay James Harvest) - A Major Fancy (1977) [Remastered 2010]
MP3 CBR 320 kbps | 209.72 MB | SCANS | TTime: 1:24:47
Genre: Rock, Progressive Rock, Crossover Prog | Label: Cherry Red Records/Esoteric Recordings | Cat.#: ECLEC22233
Esoteric Recordings are pleased to announce the release of an expanded 2CD re-mastered edition of the classic 1977 album A Major Fancy by Barclay James Harvest guitarist and vocalist John Lees.Although originally released in 1977 by EMI's HARVEST label, the album was recorded between December 1972 and January 1973 at Abbey Road studios and Strawberry Studios in Stockport. Produced by WALLY ALLEN of the PRETTY THINGS, the album sessions featured a host of notable guest musicians including ERIC STEWART and KEVIN GODLEY (of 10CC), SKIP ALLEN (PRETTY THINGS), GORDON EDWARDS (PRETTY THINGS) and ROD ARGENT (ZOMBIES& ARGENT). The sessions for A MAJOR FANCY also gave birth to the classic CHILD OF THE UNIVERSE along with impressive material such as UNTITLED No. 1 HERITAGE, LONG SHIPS, WITBURGNIGHT and KES (A MAJOR FANCY). Deleted for some years, this Esoteric Recordings edition has been newly re-mastered and includes a bonus CD featuring five previously unreleased out-takes including the song UNTITLED No. 8 and a first version of CHILD OF THE UNIVERSE with different lyrics. Also included are both sides of John 's rare 1974 Polydor single, THE BEST OF MY LOVE / YOU CAN'T GET IT, and an out-take from those sessions, Please Be With Me.
John Lees
|
Barclay James Harvest
|
Wikipedia
|
Cherry Red Records
Disc 1
1. Untitled No.1 - Heritage (7:54)
2.
Child Of The Universe
(6:17)
3. Kes (A Major Fancy) (2:32)
4. Untitled No.2 (3:52)
5. Sweet Faced Jane (5:04)
6. Witburg Night (5:47)
7. Long Ships (5:20)
8. Untitled No.3 (5:02)
Disc 2
1. Untitled No.8 (4:35)
2. Child Of The Universe (first version) (6:27)
3. Witburg Night (first mix) (5:48)
4. Untitled No.2 (first version) (3:51)
5. Untitled No.1 - Hertiage (alternate mix) (8:15)
6.
Best Of My Love
(3:39)
7. You Can't Get It (3:57)
8. Please Be With Me (2:47)
9. Child Of The Universe (single edit) (3:40)
Produced by Wally Waller
LINE-UP
John Lees - vocals, guitars
Wally Waller - bass, melotron, moog, timbals, harmony vocals
Skip Allen - drums, percussion
Gordon Edwards - piano
Graham Preskett - violin, choir and strings arrangement
Eric Stewart - acoustic guitar (3)
Kevin Godley - ashtray, beer bottle and fire extinguisher (4)
Rod Argent - organ (1)
Rex Morrison - tenor saxophone (5)
Guest musicians on CD bonus tracks:
Les Holroyd - bass
B.J. Cole - slide guitar
Mike Moran - piano
Remastered CD with bonus disc, Esoteric ECLEC 22233, 29th November, 2010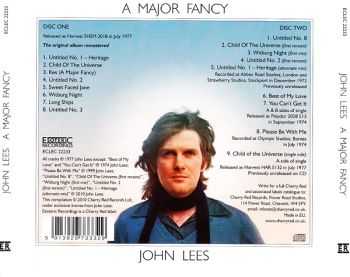 *****
Download
Disc 1
Uploaded
|
Turbobit
|
Rusfolder
Disc 2
Uploaded
|
Turbobit
|
Rusfolder
Информация
Посетители, находящиеся в группе Гости, не могут оставлять комментарии к данной публикации.