Wizzard - Wizzard Brew (1973) [Remastered 1999]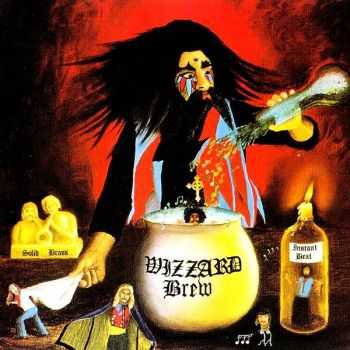 Wizzard (Roy Wood, The Move, ELO, The Idle Race) - Wizzard Brew (1973) [Remastered 1999]
MP3 CBR 320 kbps | 100.28 MB | SCANS | Time: 40:56
Genre: Rock, Glam Rock, Jazz Rock, Psychedelic | Label: EMI Records Ltd. | Cat.#: 7243 5 21205 2 9
Wizzard Brew is the first album by glam rock group Wizzard, released in March 1973. It reached a peak of No. 29 in the UK Albums Chart. In the United States, it was released by United Artists Records as Wizzard's Brew (with a different cover photo) and but failed to chart there.
The Move Information Station
|
Wikipedia
|
Amazon
Track Listing
:
1.
You Can Dance The Rock 'N' Roll
(4:38)
2. Meet Me At The Jailhouse (13:33)
3. Jolly Cup Of Tea (2:12)
4. Buffalo Station - Get On Down To Memphis (7:37)
5. Gotta Crush (About You) (3:44)
6.
Wear A Fast Gun
(9:12)
Produced by Roy Wood
Engineers: Alan Parsons & Peter Ollif
Remastered by Peter Mew
LINE-up
:
Roy Wood - vocal, electric and acoustic guitars, sitar, cello, bassoon, baritone saxophone, string bass, B-flat bass tuba, trombone, percussion
Rick Price - bass guitar, vocals, percussion
Bill Hunt - piano, harpsichord, French horn, trumpet, flugel horn, tenor horn, bugle, euphonium, E flat tuba, little glass, trumpet, backing vocals
Hugh 'H' McDowell - cello and ARP synthesiser
Nick Pentelow - tenor saxophone, clarinet & flute; bass backing vocals
Mike Burney - alto, tenor, baritone & synthesized saxes, clarinet & flute
Keith Smart - drums
Charlie Grima - drums, congas, percussion
The Cowbag Choir - choir/chorus, vocals
*****
Download
Uploaded
|
Turbobit
|
Rusfolder
Информация
Посетители, находящиеся в группе Гости, не могут оставлять комментарии к данной публикации.