Areknames - Live at Burg Herzberg Festival 2007 (2007)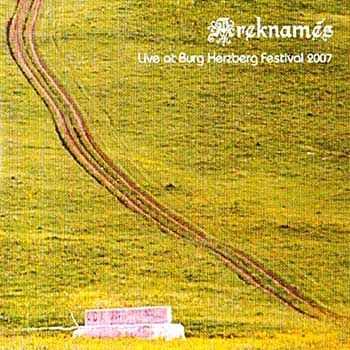 Исполнитель:
Areknames
Альбом:
Live at Burg Herzberg Festival 2007
Год выхода: 2007
Страна: Italy
Жанр: Eclectic Prog
Время: 50:33 min
Качество: MP3 / CBR, 320 kbps
Размер: 105 mb
Треклист:
Tracks:
1. Dateless diary. 6:18
2. The prison that few can see. 17:57
3. A new song. 9:02
4. Outcast. 3:43
5. Boredom. 13:31
Total time: 50:33
Musicians:
Michele Epifani: voice, keyboards
Piero Ranalli: electric bass
Simone Antonini: drums & percussions
Stefano Colombi: acoustic & electric guitar
Review:
1. Dateless Diary: After a dreamy climate with wonderful violin-Mellotron and a bit melancholical vocals (evoking Peter Hamill),we can enjoy powerful Hammond organ, propulsive guitarwork and fat synthesizer flights in a compelling atmosphere. In the end the dreamy climate returns delivering Mellotron, Hammond and flowing electric guitar.
2. A Prison That Few Can See: The first part is mellow, the music reminds me of Anekdoten because of the violin-Mellotron and warm but a bit dark vocals. Gradually the sound turns int more lush with powerful Jammond waves, strong drumming and howling electric guitar runs, followed by a long and very compelling Hammond solo similar to Dave Greenslade his work during Colosseum and Greenslade, what a lovely early vintage sound!
3. A New Song: It starts with a slow rhythm and fragile guitarplay, mellow organ and warm vocals (again evoking Anekdoten), then a mid-tempo with majestic Hammond and powerful guitar, culminating in a kind of bombastic psychedelia. Again we can enjoy a long Hammond solo, this time swirling with great support of the rhythm-section. The final part contains soaring Mellotron, it is short but I get goose bumps!
4. Outcast: This short piece sounds a bit psychedelic with propulsive drums, fiery vocals, heavy guitar and hypnotizing organ work, it reminds me of early Italian gem Il Balletto Di Bronzo, very dynamic!
5. Boredom: Again the focus is on the Hammond (along a sensitive electric guitar solo, fat synthesizer flights and wonderful violin-Mellotron): from fluent runs and sumptuous eruptions to a swirling solo with psychedelic undertones, this man know how to push the right buttons!
Don't expect elaborate music but let you carry away by Areknames their compelling vintage sound, loaded with mindblowing work on the Hammond organ!
/percevalk/
Информация
Посетители, находящиеся в группе Гости, не могут оставлять комментарии к данной публикации.