Rational Diet - Rational Diet (2007)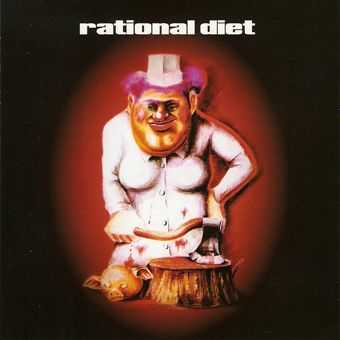 Исполнитель:
Rational Diet
Альбом:
Rational Diet
Год выхода: 2007
Страна: Belarus
Жанр: RIO, Avant-Prog, Chamber Rock
Время: 60:57 min
Качество: FLAC, tracks (no .log, no .cue) + (scans)
Размер: 378 mb
Треклист:
Tracks:
1. From The Grey Notebook - Intro. 0:23
2. From The Grey Notebook - Part 1. 5:05
3. Stop Kolpakoff! 9:57
4. I Refrained From Closing My Ears. 12:15
5. An Order For Horses. 8:52
6. Don't Swing The Wheel. 10:37
7. From The Grey Notebook - Part 2. 13:48
Total time: 60:57
Musicians:
Vitaly Appow: bassoon, tenor sax, accordeon
Maxim Velvetov: guitars
Cyrill Christya: violin
Dmitry Maslovsky: bass
Eugeny Alexeyev: keyboards
Nikolay Gumberg: drums
Guest musicians:
Alta Pustchina: cello
Cyrill Yelshow: vocals (7)
Maria Lagodich: vocals (5, 6)
Andrew Bodanow: voice (3, 4, 6)
Oleg Gorbatiuk: voice (4)
Rational Diet biography:
The following is taken from the press release about the band from their label AltrOck:
" Rational Diet, the group existing since the late 90-s in Belarus proposes an unusual mix of styles and sounds: Chamber music, rock, theatre and improvisation, supported by the amazingly instrumental abilities of their components. It's difficult to define the mood of such music, which goes from dark atmosphere to grotesque, powerful or oniric, sometimes even humoristic. Violin, cello, bassoon, saxes and accordion - besides the traditional rock instruments - chase each other along the dizzy instrumental plots, or sustain the dazed texts by the Russian avant-garde poets Daniil Charms and Alexander Vvedensky
Influences:
Shostakovich, Stravinsky, Part, Ives, Henry Cow, Univers Zero, Present, Debile Menthol"
Review Album:
My what a wonderful surprise! I haven't heard of this group before, but thanks to Synphonic Music, I found it - and they're from Belarus, making this quite unique music in area of birth.
The previous reviews pretty much tell the tale. I would agree that there are a lot of RIO groups that do tend to (it's the nature of the style a bit) to be a bit vulgar and maybe over the top (although I like that stuff too!) This on the other hand is a beautiful combination of RIO, but the Samala Mamas influence, it makes the outcome quite unique and their own voice. Speaking of voice, this is unusual also, as there is a different style of singing between the songs (do to the fact that this represents a couple of albums I think,) but is still totally cohesive and fitting. I wish I understood the language though, as it's sung with passion and clarity.
Overall, this is a must have to me, as it comes from yet another angle in the challenging and yet "can't get enough of" music of avant guard/rock.
Thanks to those that continue to support the music industry that really produces music out of love of life and art - we couldn't hear this wonderful dreams into reality without them! And now, I must have Rational Diet's other albums! (my wife just doesn't understand:)
Информация
Посетители, находящиеся в группе Гости, не могут оставлять комментарии к данной публикации.