Rational Diet - At Work (2008)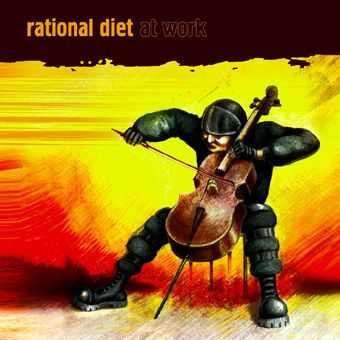 Исполнитель:
Rational Diet
Альбом:
At Work
Год выхода: 2008
Страна: Belarus
Жанр: RIO, Avant-Prog, Chamber Rock
Время: 46:12 min
Качество: FLAC, tracks (no .log, no .cue)
Размер: 280 mb
Треклист:
Tracks:
1. Pukhow. 3:43
2. Dear Kontrabandist. 6:28
3. Wet Moss. 1:19
4. The Mourners. 1:49
5. Closed case. 7:36
6. Ariel?s Last Dream: Birobidjan. 5:20
7. Horse Army. 5:29
8. Condemended. 10:47
9. On Tuesdays. 3:41
Total time: 46:12
Musicians:
Vitaly Appow: bassoon, sax
Nikolay Gumberg Semitko: drums
Cyrill Krista: violin
Dimitry Maslovsky: bass
Anna Ovchinnikova: cello
Olga Podgaiskaja: keyboards, vocals
In 2007 this Belarusian ensemble released their s/t album through Altr0ck and it was one of my favourites of that year and a great album overall. Their quirky style, inspired by classical composers such as Stravinsky and Ives to experimental and progressive rock groups such as Univers Zero has won me over and I was highly anticipating their next effort. Little did I know that it would turn out to be such a brilliant album, which shows a progression from their previous output, going into new direction, trying and experimenting with new routes and possibilities.
The lineup consists of a basic rock unit of guitar, bass, keyboards and drums along with a classical lineup of saxophone, bassoon, cello, violin and piano, giving them a range of opportunities to create a wide musical "palate" of sounds. There are also female vocals on some tracks.
9 tracks and songs are in here, mostly short, or not too long, with a charming atmosphere, beautiful melodies which are surprisingly catchy and at times sound like Stravinsky gone electric. The music is always changing, there is constant experimentation, but not for experimentation's sake, but to find more ways for the music to advance and achieve another effect, another point in its route of progression, another beautiful peak. The music, while at times can seem chaotic, is always under control, always meticulously performed and orchestrated. The brilliant parts, such as in Pukhow, where the piano seems at times to go berserk, are beautifully in line with the music, gorgeously arranged to lead the music onward, brilliantly composed to sound both out of line and in line with the rest of the band. A track like Dear Kontrabandist evokes the intensity and accuracy of Univers Zero with the madness and oddness of Le Silo. The zany saxophone goes wild while the rest of the lineup is punctually playing allowing its rogue member to express himself. The piano is the basis for this song, giving excellent bouncy and catchy rhythm. The vocals which might evoke a Magma-ian chant fit perfectly with the music. Even the very short tracks like Wet Moss have more meat and power to them than a lot of epic length tracks on other progressive rock albums. Those could and probably should have been longer as they contain great ideas that could be expanded. But if you take Wet Moss together with The Mourners, which is another short track, you might get that exactly. On Closed Case, there is a Miriodor-ian feel, as the saxophone paves the way forcefully with a highly dynamic rhythm section backing it. Then they make way for a calmer yet eerie section where the bassoon, whose sound I love, makes abrupt appearances with the strong section along with the piano creating the spooky and quirky feeling that dominates this part. The alternation between aggressive and passive is another appealing feature in this piece. Ariel's Last Dream is a violin lead track, more peaceful in nature, but still full of dynamics and passion and fabulous musicianship (as the entire album is). Horse Enemy is yet another gem here, with more Univers Zero and Present influence (at times a Univers Zero and Present on amphetamines), but not only these bands. Also, by now giving those references seems to not do justice to Rational Diet as this is their own sound. Condemned, the centerpiece of this release, is the longest on the album (almost 11 minutes) and is dominated by the "classical" side of the band, with great rhythm provided by the drums, which fit flawlessly with the whole sound and aided by the angry guitar riff as well. There are segments here where the music becomes furious and seems to overflow the speakers and then scatter all over and you hear the various instruments playing chaotically, as if looking there way back to the original path. It is very well orchestrated and so well played that I could think there's no score here at all and they're just randomly playing (they might be, who knows?). They then proceed to assemble all the pieces back together and carry on in their original path and the music gets more and more energetic, becomes more and more forceful and insistent and moves forward in a very "cubic" structured manner to the crescendo-like ending. The ending track On Tuesdays is a more peaceful song, with a nice keyboards playing pattern. It goes on cyclically and maintains the same level to the end and it is probably the only track here which remains constant and doesn't evolve (aside from the sax joining in for a few blurred fuzzy improve-like lines towards the end).
Their music splendidly combines the intensity of rock with the beauty and appealing nature of a classical lineup. The mix of the two as Rational Diet does it is simply astounding. The words Chamber Rock are probably the best description for this music, since they do exactly that. The music they create is diverse, taking from many influences, and will appeal to fans of the aforementioned bands above and fans of this style of music overall. The musicianship is spectacular as is the development of each track and the beauty of each theme presented on all the pieces on the album. The album also presents their manner of being succinct and to the point and not to overdo and prolong segments or whole tracks that do not need it. They do not fall into the needless trap of creating long pieces that tire the listener and for no reason. Knowing how to create an appealing piece of music is an art, and knowing how to not ruin it (by over-doing it) is the other side of this coin. Rational Diet seem to know this "secret". This album, to me, puts the band on the top of today's active bands in this scene. This album is one of the best I've heard this year and is quickly becoming an all-time favourite. Get it!
Информация
Посетители, находящиеся в группе Гости, не могут оставлять комментарии к данной публикации.