Rush - Permanent Waves (Japan Edition) (2009)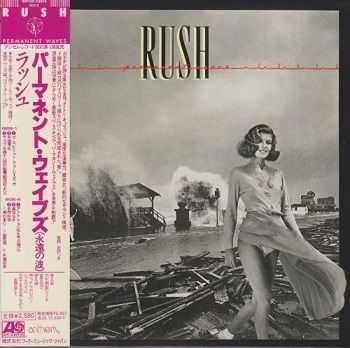 Artist:
Rush
Title Of Album:
Permanent Waves (Japan Edition)
Release Date:
2009 (1980)
Location:
Canada
Label:
Atlantic / Anthem (WPCR-13478)
Genre:
Heavy Prog
Quality:
FLAC (image+.cue+covers) / MP3 CBR 320 kbps
Length:
35:40 min
Tracks:
6
Total Size:
309 MB / 170 MB (+5%)
Permanent Waves
is the seventh studio album by Canadian rock band Rush, released on January 14, 1980. It was recorded at Le Studio in Morin Heights, Quebec, and mixed at Trident Studios in London, UK. Permanent Waves became Rush's first US top five album, hitting #4 on the Billboard 200, and their fifth Gold (later Platinum) selling album. The album marks a distinct transition from long conceptual pieces to a more accessible radio-friendly style; and consequently, a significant increase in record sales for the band. Both of the singles "The Spirit of Radio" and "Freewill" have continued to receive significant radio airplay since the album's release.
Tracklist:
01. The Spirit of Radio (4:56)
02. Freewill (5:21)
03. Jacob's Ladder (7:26)
04. Entre Nous (4:37)
05. Different Strings (3:48)
06. Natural Science (9:17)
-I Tide Pools
-II Hyperspace
-III Permanent Waves
Line-up / Musicians:

- Alex Lifeson / 6- & 12-strings electric and acoustic guitars, Taurus bass pedals
- Geddy Lee / basses, bass pedals, synthesizers (Oberheim polyphonic, OB-1, Mini-Moog), vocals
- Neil Peart / drums, tympani, orchestral & tubular bells, timbales, wind chimes, crotales, triangle

With:
- Hugh Syme / piano (5)
- Erwig Chuapchuaduah / steel drums (1)
- Terry Brown / mixing, co-arranger & co-producer
Download / Скачать flac:
Turbobit.net
Depfile.com
Hitfile.net
Download / Скачать mp3:
Turbobit.net
Depfile.com
Hitfile.net
Информация
Посетители, находящиеся в группе Гости, не могут оставлять комментарии к данной публикации.