Billy Joel - River Of Dreams (1993)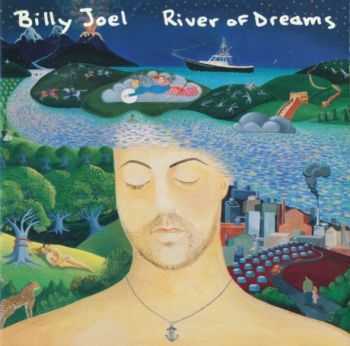 Performer: Billy Joel
Album: River Of Dreams
Label: Columbia Records
Catalog #: CK 53003
Style: Soft Rock, Pop Rock, Soul
Year: 1993
Format: Flac (*image + .cue,log,scans)/ mp3 320
Bitrate: lossless/ 320 kbps
Covers: in archive
Amount of tracks: 10
Size RAR: ~ 391 MB/ ~ 124 MB
Upload: yandex, rusfolder
Recovery: 3%
Password: sim-sim

River Of Dreams - 12 студийный альбом певца и автора песен Billy Joel(а), вышедший в августе 1993. Альбом снискал огромную популярность во многих странах мира и по результатам продаж получил Платиновые сертификаты в Австрии, Германии, Японии, Нидерландах, Новой Зеландии, Швейцарии и Великобритании; стал дважды платиновым в Ирландии; трижды платиновым в Австралии и Канаде; и 5× платиновым в США.
На Grammy Awards '94 альбом получил номинации в категориях Album of the Year, Song of the Year, Record of the Year, Best Pop Vocal Performance – Male.
После этого Джоэл объявил о том, что не намерен записывать новые диски с популярными мелодиями, решив посвятить себя написанию классической музыки. Пока что он держит это обещание и на сегодняшний день River Of Dreams является последним студийным альбомом артиста в категории популярной музыки.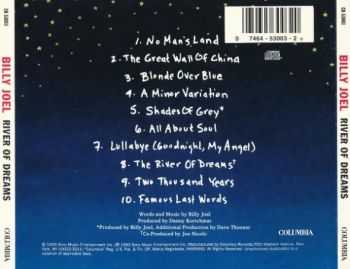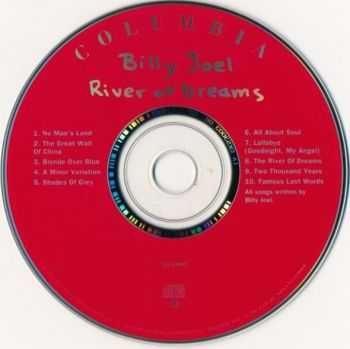 1. No Man's Land (4:48 )
2. The Great Wall Of China (5:47)
3. Blonde Over Blue (4:55)
4. A Minor Variation (5:36)
5. Shades Of Grey (4:11)
6. All About Soul (6:01)
7. Lullabye (Goodnight My Angel) (3:34)
8. The River Of Dreams (4:07)
9. Two Thousand Years (5:20)
10. Famous Last Words (4:54)
Информация
Посетители, находящиеся в группе Гости, не могут оставлять комментарии к данной публикации.