VA - Odyssey The Greatest Tale [3CD] (2005) Lossless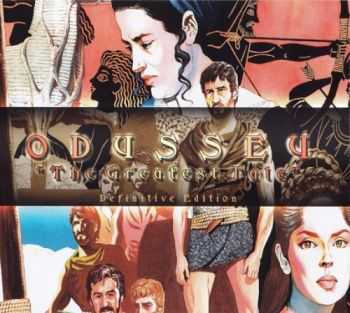 Исполнитель:
VA (Colossus Project)
Альбом:
Odyssey The Greatest Tale
Страна:
Various
Жанр:
Progressive Rock
Год выхода:
2005
Формат:
WavPack (image+.cue, log, scans)
Размер:
2.23 Gb
Tracklist:
CD1:
1.
Nathan Mahl
- Chapter I: Of Longings, Suitors, Deities And Quests... (24:07)
2.
Nexus
- Chapter II: El Regreso-The Return (27:50)
3.
Glass Hammer
- Chapter III: At The Court Of Alkinoos (21:32)
CD2:
4.
XII Alfonso
- Chapter IV: From Ismarus To The Land Of Death (I. Ismarus, Land Of The Cicones/II. Seventeen Days Of Open Sea/III. The Land Of The Lotus Eaters/IV. The Land Of The Cyclops/V. The Island Of Aeolus & The Land Of Laestrygonians/VI. Circe's Island/VII. The Land Of Death) (26:01)
5.
Simon Says
- Chapter V: Minds Of Mortal Men - Meander Tales (25:40)
6.
C.A.P.
- Chapter VI: Sulle Ali Del Sogno - Odissea: Libri XIV, XV, XVI (28:15)
CD3:
7.
Tempano
- Chapter VII: (I. Hecatombe/II. Book XVII - Odysseus Arrives At The Palace/III. Book XVIII - The Suitors Torment Odysseus/IV. Book XIX - The Beggar Meets Penelope/V. Parnasus) (24:14)
8.
Minimum Vital
- Chapter VIII: Etranger En Sa Demeure (22:22)
9.
Aether
- Chapter IX (21:31)
Line-up / Musicians:
NATHAN MAHL (Canada), NEXUS (Argentina), GLASS HAMMER (United States), XII ALFONSO (France), SIMON SAYS (Sweden), CONSORZIO ACQUA POTABILE (Italy), TEMPANO (Venezuela), MINIMUM VITAL (France) and AETHER (Brazil)
Download / Скачать:
Информация
Посетители, находящиеся в группе Гости, не могут оставлять комментарии к данной публикации.