Foreigner - First Five Albums (Original Album Series) (2009)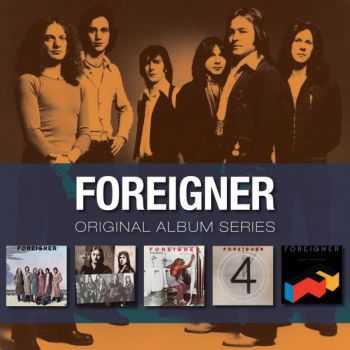 Исполнитель:
Foreigner
Альбом:
First Five Albums (Original Album Series)
Год выхода: 2009
Страна: USA
Жанр: Rock, hard rock, soft rock
Время: 03:21:07
Качество: FLAC (image+.cue) lossless - 320
Размер: 900, 1746 MB (инфа для восст. 3%)
Треклист:
Five CD box set containing a quintet of original albums from this Classic Rock outfit. This set contains the digitally remastered and expanded editions of Foreigner (1977), Double Vision (1978), Head Games (1979), 4 (1981) and Agent Provocateur (1984). Led by vocalist Lou Gramm and guitarist Mick Jones, Foreigner, alongside Journey, were one of the most successful Melodic Rock/AOR bands of all time, Their music is still in heavy rotation on radio stations all over the world. Warner. 2010. Sold-out shows on a recent world tour demonstrate the band's formidable musical arsenal that continues to propel album sales, now exceeding 70 million. At Foreigner's core is founder Mick Jones, the visionary maestro whose stylistic songwriting, indelible guitar hooks and multi-layered talents continue to escalate Foreigner's influence more than 30 years
1977 - Foreigner
1-1 Feels Like The First Time
1-2 Cold As Ice
1-3 Starrider
1-4 Headknocker
1-5 The Damage Is Done
1-6 Long, Long Way From Home
1-7 Woman Oh Woman
1-8 At War With The World
1-9 Fool For You Anyway
1-10 I Need You
1978 - Double Vision
2-1 Hot Blooded
2-2 Blue Morning, Blue Day
2-3 You're All I Am
2-4 Back Where You Belong
2-5 Love Has Taken Its Toll
2-6 Double Vision
2-7 Tramontane
2-8 I Have Waited So Long
2-9 Lonely Childern
2-10 Spellbinder
1979 - Head Games
3-1 Dirty White Boy
3-2 Love On The Telephone
3-3 Women
3-4 I'll Get Even With You
3-5 Seventeen
3-6 Head Games
3-7 The Modern Day
3-8 Blinded By Science
3-9 Do What You Like
3-10 Rev On The Red Line
1981 - 4
4-1 Night Life
4-2 Juke Box Hero
4-3 Break It Up
4-4 Waiting For A Girl Like You
4-5 Luanne
4-6 Urgent
4-7 I'm Gonna Win
4-8 Woman In Black
4-9 Girl On The Moon
4-10 Don't Let Go
1984 - Agent Provocateur
5-1 Tooth And Nail
5-2 That Was Yesterday
5-3 I Want To Know What Love Is
5-4 Growing Up The Hard Way
5-5 Reaction To Action
5-6 Stranger In My Own House
5-7 A Love In Vain
5-8 Down On Love
5-9 Two Different Worlds
5-10 She's Too Tough
Credits
Photography [Cover Photo (Slipcase)] – Getty Images
Producer – Alex Sadkin (tracks: 5-1 to 5-10), Gary Lyons (tracks: 1-1 to 1-10), Ian McDonald (tracks: 2-1 to 3-10), John Sinclair (tracks: 1-1 to 1-10), Keith Olsen (tracks: 2-1 to 2-10), Mick Jones (2) (tracks: 2-1 to 5-10), John "Mutt" Lange* (tracks: 4-1 to 4-10), Roy Thomas Baker (tracks: 3-1 to 3-10)
Producer [In Collaboration With] – Ian McDonald (tracks: 1-1 to 1-10), Mick Jones (2) (tracks: 1-1 to 1-10)
Comes in a cardboard slipcase. The individual CDs are contained in cardboard sleeves printed with the original vinyl artwork but without additional booklets/inner sleeve reproductions. The release may carry a sticker "5 CD's".
Информация
Посетители, находящиеся в группе Гости, не могут оставлять комментарии к данной публикации.