Love With Arthur Lee - The Forever Changes Concert (2003)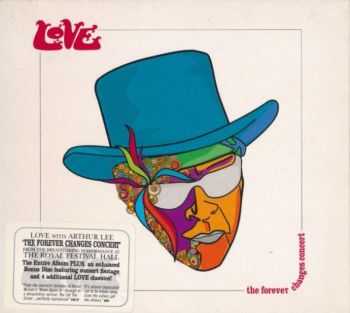 Performer: Love With Arthur Lee
Album: The Forever Changes Concert
Label: Snapper Music
Catalog #: SMACD868
Style: Psychedelic Rock, Classic Rock
Year: 2003
Format: Flac (*image + .cue,log,scans)/ mp3
Bitrate: lossless/ 320 kbps
Covers: in archive
Amount of tracks: 15
Size RAR: ~ 567 MB/ ~ 212 MB
Upload: deposit, rusfolder
Recovery: 3%
Password: sim-sim

Love - американская рок-группа из Лос-Анджелеса. Была популярна в конце 60-х и начале 70-х годов. Лидер группы - вокалист, автор текстов и гитарист Arthur Lee (7.03.1945 - 3.08.2006), известный как "первый чёрный хиппи". В музыке группы соединились элементы рок-н-ролла, гаражного рока, фолка и психоделии. Forever Changes третий альбом группы вышел в конце 1967. Проведя всего 10 недель в чарте Billboard 200 и получив довольно умеренный коммерческий успех, альбом, тем не менее высоко оценивается критиками и признаётся одним из выдающихся альбомов в истории рок-музыки. В списке 500 Greatest Albums of All Time журнала Rolling Stone, альбом Forever Changes находится на 40-й позиции.
В 2002 году Arthur Lee собирает новый состав, который называется Love with Arthur Lee, и играет ряд концертов, приуроченных к 35-летию выхода в свет альбома - в частности, выступает в лондонском Royal Festival Hall со струнным оркестром. Запись этого концерта и представлена вашему вниманию. Слушайте, и не говорите потом, что не слышали!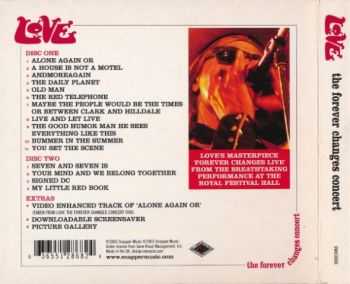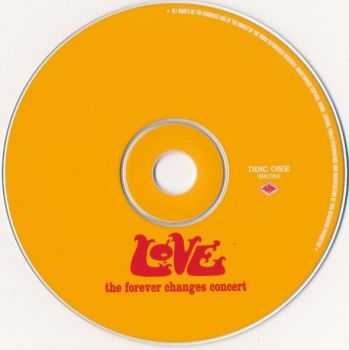 1. Alone Again Or (4:20)
2. A House Is Not a Motel (4:06)
3. Andmoreagain (4:05)
4. Daily Planet (3:42)
5. Old Man (3:29)
6. Red Telephone (7:12)
7. Maybe the People Would Be the Times or Between Clark and Hilldale (3:57)
8. Live and Let Live (5:13)
9. Good Humor Man He Sees Everything Like This (3:42)
10. Bummer in the Summer (2:34)
11. You Set the Scene (7:51)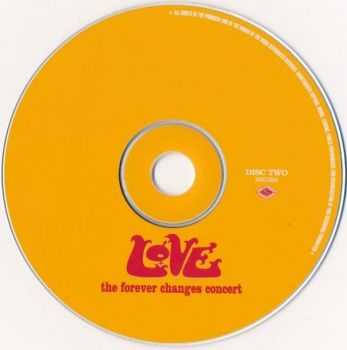 1. Seven And Seven Is (2:59)
2. Your Mind And We Belong Together (4:12)
3. Signed DC (6:46)
4. My Little Red Book (2:31)
Extras
* Video Enhanced Track Of "Alone Again Or"
* Downloadable Screensaver
* Picture Gallery
Информация
Посетители, находящиеся в группе Гости, не могут оставлять комментарии к данной публикации.