Winger - Karma (2009) [Japanese Ed.]
Winger - Karma (2009) [Japanese Ed.]
FLAC: IMAGE+CUE+LOG | 389.02 MB | MP3 CBR 320 kbps | 122.82 MB | SCANS | Time: 49:14
Genre: Hard Rock | Label: King Records Co., Ltd. | Cat.#: KICP-1440
Вот это Хард-Рок, вот это Альбом-ище!!
Karma
is American rock band Winger's fifth studio album. The album was released on 16 October 2009 in Europe and 27 October 2009 in the United States. The inspiration for a new Winger came about at the end of 2008, when
Kip Winger
had the vision to melt the more commercial, heavier and song oriented approach of the first two albums with the more "thinking-man" approach of the last two studio records.
Kip Winger said of the title that "We were discussing the very interesting path the band has had and we have all been through so much together. So we went for Karma as this is a word that truly sums up the experience of being in the band."
When questioned about the album, Kip Winger has stated: "When the chance came up to do a new Winger record, I envisioned an upbeat totally rocking record that was a cross between the 1st Winger album and Pull. So Reb and I sat down and wrote all the music in a month or so. I worked for 6 months to finish it in the classic Winger style."
Winger
Wikipedia
CDJapan
Amazon
Sleaze Roxx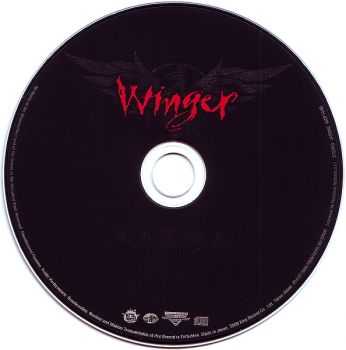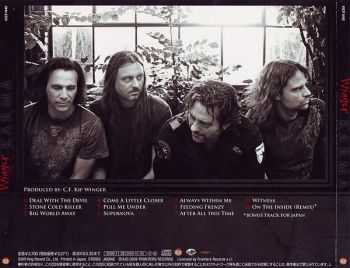 Track Listing
:
1. Deal With The Devil (2:59)
2. Stone Cold Killer (2:45)
3. Big World Away (3:50)
4. Come A Little Closer (2:50)
5.
Pull Me Under
(3:20)
6. Supernova (6:17)
7. Always Within Me (4:15)
8. Feeding Frenzy (3:00)
9. After All This Time (6:23)
10. Witness (7:10)
11. On The Inside (Remix) [Bonus track for Japan] (6:25)
Produced by C.F. Kip Winger
THE BAND
:
Kip Winger
: vocals, bass, keys
Reb Beach
: guitars, vocals
John Roth
: guitars, vocals
Rod Morgenstein
: drums
Following the fans requests, the band decided to make peace with its past with an album that mixes the rock approach of the first two albums with the Pull album. Karma rocks harder than anything the guys have done in the past 15 years or so and has some incredible songwriting, performance and production skills from the band.

The songwriting and production is so well crafted that it is one of those albums you can listen to repeatedly and find something new every time. "Karma" is an appropriate title... they should reap many rewards for this one.
Many thanks to the original uploader: hafanana
**********
Download
: LOSSLESS
Uploaded
|
Depositfiles
|
Turbobit
**********
Download
: MP3
Uploaded
|
Depositfiles
|
Turbobit