Rated X - RATED X (2014)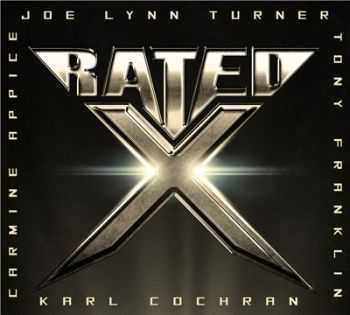 Исполнитель:
Rated X
Альбом:
RATED X
Год выхода: 2014
Страна: USA
Жанр: Hard Rock, Melodic rock
Время: 01:13:11
Качество: aac VBR, 44KHz, Stereo
Размер: 150 Mb (инфа для восс. 3%)
Треклист:
RATED X (ранее LEGACY X), новая супер-группа, в состав которой входят вокалист

Joe Lynn Turner

(RAINBOW, DEEP PURPLE, YNGWIE MALMSTEEN), барабанщик Carmine Appice (VANILLA FUDGE, CACTUS), басист Tony Franklin (THE FIRM, BLUE MURDER) и гитарист Karl Cochran (JOE LYNN TURNER, NUCLEAR ASSAULT), выпускают дебютную работу 7-го ноября на Frontiers.
"Я думаю, что мы хотели немного окунуться в ретро, но со современным звучанием" - говорит Turner. "Песни представляют из себя классический рок, но просто ограничиться этим будет неправильно. Они ровно такие какие и должны быть, и прошли небольшую трансформацию в процессе записи. Так что все мы очень довольны итоговой записью и наконец-то готовы представить её публике. Каждый в команде обладает своей индивидуальностью и стилем. И если все это сложить, то и получается RATED X".

Продюсером материала выступал Alessandro del Vecchio, который также исполнил клавишные партии на некоторых треках. Сведение альбома выполнил Pat Regan (MR. BIG, DEEP PURPLE, GOTTHARD, KISS, DORO).

Appice: "Alessandro помог нам в работе над этими треками и благодаря его работе я верю в то, что мы добились классического звучания конца 70-х-начала 80-х. Как по мне, то все это звучит как BLUE MURDER с вокалом Joe Lynn Turner'a. То, что Tony и я отвечают за ритм-секцию, дает звучанию настрой BLUE MURDER. А клавиши Alessandro добавляют немного DEEP PURPLE. Все вместе получилось как нельзя лучше и я получил удовольствие от работы над каждым из треков".

Call it postmodernism or think about the freedom of choice that comes with seniority – there's more super groups in rock than you can enumerate in one breath now. Still, every classic rock fan must have felt an urgent need to pinch themselves when they saw the news of Joe Lynn Turner (Rainbow, Deep Purple, Yngwie Malmsteen), Carmine Appice (Vanilla Fudge, King Kobra, Blue Murder), Tony Franklin (The Firm, Blue Murder, Whitesnake) and Karl Cochran (Ace Frehley) collaborating together. However, this was neither a mirage, nor just a sweet dream! The iconic musicians joined forces under the moniker of Rated X and, what is more, the first album of theirs is to see the light of day in November. The self-titled album was made under the guidance of an aulic Frontiers' producer, the omnipresent (and perhaps omnipotent, considering the vast amount as well as quality of his work) Alessandro Del Vecchio. Do the iconic names in the band's camp equal the fulfillment of the great expectations a listener should have? Let's listen and see.

Starting with thunderous drum roll that develops into the first track "Get Back My Crown," Rated X is, to paraphrase an old adage, the best of four worlds. From the fiery drumming being the trademark of legendary Carmine Appice to Joe Lynn Turner's powerhouse singing and charisma, it's having all the key ingredients of hard rock masterpiece blended into one. And although there might have been some Purple-esque flavors to the opening song on the album and you might have caught yourself thinking about Turner-fronted Purple album Slaves And Masters at times – the music is every inch contemporary, meaty rock sound that screams 2014 rather than the '80s or '90s.

The second track "This Is Who I Am" continues in a feisty, bluesy manner enhanced by the flawless modern-day production, with the infallible Turner belting out a powerful self-independence manifesto. And although the mellow intro and slow-ish verses of "Fire And Ice" may have suggested there's a ballad coming on, it's just the opposite with fiery choruses and fine guitar solo. The slightly neoclassical interlude in the middle of the song somewhat reminds one of Led Zeppelin's classic "Kashmir", but it's more of a nod and a wink than a rip-off anyway. Next is a groovy, Hammond-flavored "I Don't Cry No More" that has the reunited Blue Murder rhythm section of Appice and Franklin squeezing the blood, sweat and tears from their instruments – almost literally.

"Lhasa" begins with an eerie, mysterious intro that might have made your hair stand on end – only to develop into a monumental, slow, lumbering piece with some distant echoes of the aforementioned Led Zepp or Dio-era Rainbow. "Devil In Disguise" is another Purple-esque track that may remind you of Joe Lynn Turner's work in either Purple or Stuart Smith's Heaven & Earth. It precedes a fine melodic mid-tempo "You Are The Music" enriched with what is perhaps the best guitar solo on the album. "Peace Of Mind" stands out because of the pounding bass sound and well-crafted choruses, while "Maybe Tonight" slows down a bit, a charming AOR/melodic rock piece much in Turner's usual style (think Sunstorm or his solo albums). "On The Way To Paradise" gets much feistier, bringing a solid dose of straight-in-your-face '70s-flavored riffs against some powerhouse drumming. "Our Love Is Not Over" is a ballad-esque, AOR-ish mid-tempo featuring some tasteful guitar licks, again a nod and a wink to JLT's melodic rock roots. This being the next-to-last song on the album, the final one is a keyboard-laden, monumental track "Stranger In Us All" with many interesting changes of pace.

With Rated X, you may start to wonder what secret potions or magical practices keep the musicians in such a good shape – like a fine wine, they're getting better and better with time, still able to amaze the listeners and release another milestones of their respective careers. And even though the eldest of the pack, Carmine Appice, will celebrate his 68th birthday this year, there's still no competition to the iconic drummer – none of the youngsters being able to rise up to such a challenge! If you have any doubts, check out the pounding drumming that's been the backbone of Rated X and the core of their first album, against Karl Cochran's tasteful guitar playing, Tony Franklin's fretless-bass chops and the immaculate vocal talent of Joe Lynn Turner. With such a line-up overseen by Alessandro Del Vecchio himself, you couldn't simply have gone wrong! If you're a Rainbow staunch aficionado or an avid Blue Murder fan, you know you can't miss Rated X anyway, but if you're just into the contemporary melodic hard rock that has its back-to-roots moments too – be sure to include it on your list of must-haves. Highly recommended. by Alexandra Mrozowska
– Senior Columnist – Hardrock Haven rating: 9/10
Tracklist
:
01. Get Back My Crown (4:15)
02. This Is Who I Am (4:49)
03. Fire And Ice (4:20)
04. I Don't Cry No More (4:22)
05. Lhasa (7:14)
06. Devil In Disguise (4:20)
07. You Are The Music (5:02)
08. Peace Of Mind (5:49)
09. Maybe Tonight (5:05)
10. On The Way To Paradise (4:03)
11. Our Love Is Not Over (5:38)
12. Stranger In Us All (5:46)
Band
:
• Joe Lynn Turner: vocals
• Carmine Appice: drums
• Tony Franklin: bass
• Karl Cochran: guitars
• Nikolo Kotzev guitars (tracks 8, 9, 11), lead guitars (tracks 12, 4)
• Daniel Palmqvist guitars (track 7)
Информация
Посетители, находящиеся в группе Гости, не могут оставлять комментарии к данной публикации.