Maxine Sullivan - It's Wonderful [4 CD] (2007)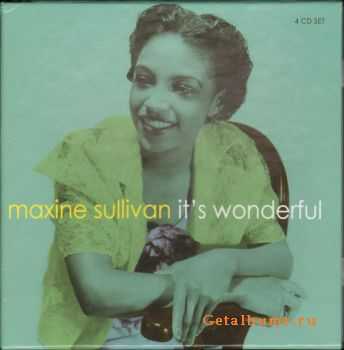 Artist
: Maxine Sullivan
Title Of Album
: It's Wonderful
Year Of Release
: 2007 (Rec. 1937-1956)
Label
: Proper Box UK
Genre
: Traditional Pop, Vocal Jazz, Swing
Quality
: Mp3
Bitrate
: CBR 320 kbps
Total Size
: 762 MB (Covers)
WebSite
:
Amazon.com
Tracklist:CD1 "Loch Lomond"
:
1.Stop!You're Breaking My Heart
2.Loch Lomond
3.I'm Coming Virginia
4.Annie Laurie
5.Blue Skies
6.Easy To Love
7.The Folks Who Live On The Hill
8.Darling Nellie Gray
9.Nice Work If You Can Get It
10.It's Wonderful
11.Dark Eyes
12.A Brown Bird Singing
13.You Went To My Head
14.Moments Like This
15.Please Be Kind
16.It Was A Lover And His Lass
17.Dark Eyes
18.Spring Is Here
19.Down The Old Ox Road
20.St.Louis Blues
21.L'Amour Toujours L'Amour
22.Night And Day
23.Kinda Lonesome
24.It Ain't Necessarily So
25.Say It With A Kiss
26.I Dream Of Jeanie With The Light Brown Hair
CD2 "The Lass With The Delicate Air"
:
1.I'm Happy About The Whole Thing
2.Drink To Me Only With Thine Eyes
3.Corn Pickin'
4.Jackie Boy
5.Turtle Dove
6.Sing Something Simple
7.Ill Wind
8.The Hour Of Parting
9.If I Had A Ribbon Bow
10.Who Is Sylvia?
11.Molly Malone
12.Barbara Allen
13.Oh!No,John
14.Calm As The Night
15.The Heart You Stole From Me
16.Last Night The Nightingale Woke Me
17.The Lass With The Delicate Air
18.You Mean So Much To Me
19.Midnight
20.What A Difference A Day Made
21.Just Like A Gypsy
22.My Blue Heaven
23.The Same Old Story
24.Kentucky Babe
25.Ma Curly-Headed Baby
CD3 "Mad About The Boy"
:
1.When Your Lover Has Gone
2.My Ideal
3.Beside The River Clyde
4.How Do I Know It's Real?
5.Behavin' Mydelf For You
6.I Carry The Torch For You
7.The Story Of Our Love Affair
8.Confession Is Good For The Soul
9.Ev'ry Time We Say Goodbye
10.This Heart Of Mine
11.I'm The Caring Kind
12.Looking For A Boy
13.Mad About The Boy
14.I Must Have That Man
15.I Can't Get Started
16.Skylark
17.Come Rain Or Come Shine
18.Miss Otis Regrets
19.Taking My Time
20.Summertime
21.Legalize My Name
22.Cry,Buttercup,Cry
23.Restless
24.Piper In The Glen
25.Boogie Woogie Maxixe
CD4 "Memories Of You"
:
1.Molly Malone
2.If I Had A Ribbon Bow
3.A Brown Bird Singing
4.Ah!Sweet Mystery Of Life
5.The Folks Who Live On The Hill
6.I Didn't Know About You
7.Loch Lamond
8.I'm Coming Virginia
9.Oh!No John
10.Wraggle Taggle Gypsies
11.St.Louis Blues
12.When Your Lover Has Gone
13.Memories Of You
14.Ain't Misbehavin'
15.Mound Bayou
16.Keepin' Out Of Mischief Now
17.S'Posin'
18.Stompin' At The Savoy
19.Honeysuckle Rose
20.Christopher Columbus
21.Blue Turning Grey Over You
22.How Can You Face Me?
23.My Fate Is In Your Hands
24.Massachusetts
Maxine Sullivan (vocals); Tony Colucci, Herbe Thomas, Everett Barksdale, Freddie Green, Ken Binford (guitar); Laura Newell (harp); Samuel Rand, Joseph N. Breen, Samuel Persoff (violin); Vic Ash, Reggie Merrill, Leo Trammel, Hank D'Amico, Buster Bailey (clarinet); Carl Prager (bass clarinet); Mitch Miller (oboe); Harold Goltzer (bassoon); Floyd Turnham, Pete Brown , Paul Ricci, Willard Brown, Chester Hazlett, Ernie Purce, Jess Carneol, Eddie Barefield, Bernie Kaufman, Hilton Jefferson, Slats Long, Jerome Richardson, Jimmy Lytell, Russell Procope, Tony Scott , Toots Mondello, Benny Carter (alto saxophone); Ulysses 'Buddy' Banks, Dexter Gordon, Don Byas, Fred Williams, Walter "Foots" Thomas, Ernie Powell, Babe Russin, Bud Freeman (tenor saxophone); Eddie Powell (baritone saxophone); Manny Klein, Lincoln Mills, Lloyd Reese, Doc Cheatham, Emmett Berry, Frankie Newton, Joe Newman , Neal Hefti, Shorty Rogers, Sidney DeParis, Courtney Williams, Charlie Shavers, Charlie Spivak (trumpet); Bobby Hackett (cornet); Jack Lacey, Joe Britton, Alton Moore, Jimmy Archey, Al Grey, Sandy Williams , Vic Dickenson, Trummy Young (trombone); Claude Thornhill, Kenneth Billings, Eddie Beal, Ellis Larkins, Milt Rettenberg, Ralph Dollimore, Sonny White, Walter Gross, Billy Kyle (piano); Dick Hyman, Leonard Feather (harpsichord); Red Norvo (vibraphone); Harry Patent, Ed Brader, John Kirby , John Simmons , Al Hall , Milt Hinton, Oscar Pettiford, Red Callender, Artie Bernstein, Wendell Marshall, Beverly Peer, Billy Taylor , Frank Carroll, Ashley Kozak, Cedric Wallace, Charlie Drayton, Aaron Bell (bass guitar); O'Neill Spencer, Gary Gillis, Ed Rubsam, Ralph Green, AL Taylor, J.C. Heard, Louie Bellson, Morey Feld, Osie Johnson, Specs Powell, Oscar Lee Bradley, Buddy Rich, Chauncey Morehouse (drums); Teddy Wilson (piano); Claude Thornhill & His Orchestra, Vic Ash Quartet, Larry Johnson And His Orchestra, John Kirby & His Orchestra, Benny Carter & His Orchestra.
Download / Скачать:
Unibytes.com
Turbobit.net
Информация
Посетители, находящиеся в группе Гости, не могут оставлять комментарии к данной публикации.