VA - Dwelling Of Duels - August 2009 - Free Month (2009)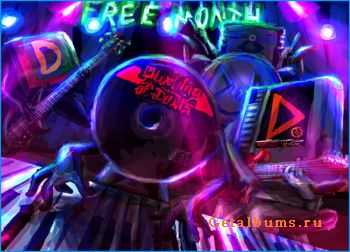 Исполнитель:
VA - Dwelling Of Duels
Альбом:
August 2009 - Free Month
Год выхода: 2009
Страна: various
Жанр: Instrumental, Video Game Metal/Rock
Качество: 128-320 kbps
Треклист:
[Позиция. Исполнитель: Игра - Название трека]
01. Scaredsim, Harjawaldar: Wave Race 64 - Slide on Sand!
02. Dr. Manhattan: Castlevania: Bloodlines - Crimson Twilight
03. Hoha: TMNT 3 - Ninja Goes Pow!
04. M-H: Baten Kaitos - I Survived the Force and All I Got Were These Lousy Cards
05. ansgaros: Dragon Saber - Ice Hole
06. Motol DM: Super Metroid - Coolin' Down the Red Soil Swamp
07. LuIzA: Chrono Trigger - ...And in Self-Loathing and Despair, She Found Wrath
08. BONKERS: Mega Man X4 - X
09. Danimal Cannon: Mega Man 9 - The Music Industry Is Horrible And So Is This Song (I'm So Smexy)
10. XenonOdyssey: Chrono Trigger - Windig
11. VikingGuitar: Chrono Trigger - Ease Up, Crono
12. Six-Stringed Flamberge: Metal Gear Solid 2 - Crosshairs
13. Brian Davis: Ecco the Dolphin 2: The Tides of Time (Genesis) - They Feasted on My Family
14. Demonstray: Final Fantasy X - Otherworld
15. Divine Wrath: Cave Story - Welcome to Hell
16. Flip362: Sonic the Hedgehog - Silly Sonic Takes a Break from Running for an Evening with the Orchestra... Cuz He Felt Like It! umm...Rawr?
16. SuprMelO: Cave Story, Audioslave - Shadow on the Moonsong
18. Auriplane, Juja: Castlevania: Dawn of Sorrow - Soma's Alchemy Playset (Blasphemy Not Included)
18. Kid Belmont, King Malboro: Chrono Trigger, Final Fantasy X, Gabriel Knight: Sins of the Fathers, Super Mario Brothers - Super Knight Bros in Limbo of the Lost
20. Dragonlee71: Sonic the Hedgehog 3 - Sonic the Deathhog
21. NintenJoe 64: Super Mario World 2: Yoshi's Island - Fight For Freedom
21. The Sloth King: Aerial Assault (Game Gear) - Insane Plane Battle
23. Rayth Xelos: The Goonies 2 - Mazes And Doors To Hell
23. TransINSANO, GOREman: The Legend of Zelda: A Link to the Past - Castle Made of Rock!
25. LuketheXjesse: Gran Turismo 2 - Castle Over Moon
25. Rasgar: Disgaea 2 - More Thorns Than Most
25. Rusticakustic: Mega Man 2, 3 - Snake Bubble River
Бонус:
. Auriplane, Juja: Super Mario Brothers 3 - Super Marius Spelunkers
. BONKERS: Final Fantasy Tactics - Pick your D00D's(over compressed much?)
. BONKERS: Mega Man X - Deep Stars
. BONKERS: Metal Gear Solid, Final Fantasy 5, The Legend of Zelda: Twilight Princess, Sonic 2, Chrono Cross - Alternative Radio
. DZX: Final Fantasy X - Repent Thy Sins
. MichaelTheCrow: Golden Sun - Sol Sanctum Drained My Batteries
. bjkmenu: Rayman, Super Mario Brothers 2 - I Love DoD
. mshell, Happy Rectangle: The Neverhood - Skat Radio Fanfic Bye
Dwelling of Duels это ежемесячные соревнования между кавер-музыкантами в сфере VGM (Video Game Music). Каждый месяц устраивается музыкальный поединок на заданную тематику, каждый третий месяц (Free Month) - свободная тема. Все исполняемые треки - кавер-версии на музыку из видео-игр. По результатам голосования определяются победители; одно место может быть занято несколькими исполнителями. Также в "альбом" включаются сделанные по фану внеконкурсные треки.
Внимание! У Вас нет прав для просмотра скрытого текста.
Все ссылки на музыку, размещенные выше, представлены исключительно для ознакомительного прослушивания и расположены не на нашем сервере. Все файлы лежат на сторонних серверах, к которым сайт не имеет никакого отношения. Наш сайт является лишь блогом, на котором пользователи выкладывают ссылки на эти файлы, которые доступны публично. После прослушивания Вы обязаны удалить скачанные файлы и приобрести легальную копию.
Информация
Посетители, находящиеся в группе Гости, не могут оставлять комментарии к данной публикации.