VA - 101 Love Songs [Box Set] (2003)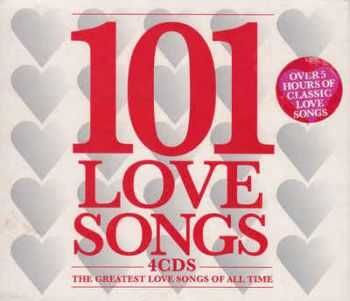 Исполнитель

: Various Artists

Альбом

: 101 Love Songs [Box Set]

Год выхода

: 2003

Лейбл

: Decadance UK Recordings

Жанр

: Classical Pop, Rock, Soul, Funk, Jazz

Время

: 5:09:54

Формат

: Mp3 / FLAC (tracks + .cue, log-file)

Качество

: CBR 320 kbps / Lossless

Размер

: 756 mb / 1,58 gb (Covers)

Вебсайт

:

amazon.co.uk

TRACKLIST

:Disc 1

01. Percy Sledge. When A Man Loves A Woman

02. Ben E King. Stand By Me

03. Phyllis Nelson. Move Closer

04. Al Gree. Let's Stay Together

05. Vickie Carter. Close To You

06. Eva Cassidy. Over The Rainbow

07. BJ Thomas. Raindrops Keep Fallin' On My Head

08. Jackie Wilson. (Your Love Keeps Lifting Me) Higher & Higher

09. Three Degrees. When Will I See You Again

10. Bonne Tyler. It's A Heartache

11. Jim Croce. Time In A Bottle

12. Harold Melvin & The Blue Notes. If You Don't Know Me By Now

13. Lou Rawls. You'll Never Find Another Love Like Mine

14. The Real Thing. You To Me Are Everything

15. Al Jarreau. Lean On Me

16. Joolz Gianni & Dina Carroll. Almaz

17. David Stuart. If You're Not The One

18. Elvis Costello. Good Year For The Roses

19. Gerry & The Pacemakers. Don't Let The Sun Catch You Crying

20. The Shirelles. Will You Love Me Tomorrow

21. Billy Fury. Halfway To Paradise

22. The Troggs. Love Is All Around

23. Robert Knight. Everlasting Love

24. The Everly Brothers. Bye Bye Love

25. Beatles Tribute. Yesterday

::

PREVIEW

::Disc 2

01. Jimmy Ruffin. What Becomes Of The Broken Hearted

02. Syreeta. With You I'm Born Again

03. Odyssey. If You're Looking For A Way Out

04. Regina & Smomey Roberts. Endless Love

05. Atlantic Starr. Always

06. Chi-Lites. Have You Seen Her

07. Brook Benton. Rainy Night In Georgia

08. Martha Reeves. I Say A Little Prayer

09. Wayne Fontana. Groovy Kind Of Love

10. The Box Tops. The Letter

11. The Foundations. Build Me Up Buttercup

12. Gary Puckett. Young Girl

13. Donovan. Catch The Wind

14. The Fortunes. You've Got Your Troubles

15. Mary Wells. My Guy

16. Dorothy Moore. Misty Blue

17. Billy Ocean. Love Really Hurts Without You

18. David Parton. Isn't She Lovely

19. Ken Boothe. Everything I Own

20. Martha Reeves & G.C.Cameron. You're All I Need To Get By

21. David Grant & Jaki Graham. Could It Be I'm Falling In Love

22. Al Green. I'm Still In Love With You

23. Ann Peebles. I Can't Stand The Rain

24. Jackie Wilson. I Get The Sweetest Feeling

25. The Drifters. Unchained Melody

::

PREVIEW

::Disc 3

01. Nina Simone. My Baby Just Cares For Me

02. Andy Williams. Can't Help Falling In Love

03. Danny Williams. Moon River

04. Dinah Washington. Mad About The Boy

05. Billy Krall. Just The Way You Are

06. Englebert Humperdinck. Stardust

07. The Batchelors. I Believe

08. The Platters. The Great Pretender

09. Dixie Cups. Chapel Of Love

10. The Crystals. The He Kissed Me

11. Bruce Channel. Hey Baby

12. Dobie Gray. Feelings

13. Don McLean. Crying

14. Showaddywaddy. Under The Moon Of Love

15. New Seekers. I Get A little Sentimental Over You

16. Pretty Woman. It Must Have Been Love

17. Edison Lighthouse. Love Grows (Where My Rosemary Goes)

18. Jodie Winter. God Only Knows

19. Jules Garner. Misty

20. Skeeter Davis. The End Of The World

21. Jolene Parsons. Don't It Make My Brown Eyes Blue

22. Charlie Rich. Your Cheatin' Heart

23. Lesley King. You've Got A Friend

24. Paul Flood. Bridge Over Troubled Water

25. Ryan & Rachell O'Donnell. My Heart Will Go On

::

PREVIEW

::Disc 4

01. Rota. Romeo & Juliet Theme from the film 'Romeo & Juliet'

02. Tchaikovsky. Act II Opening Scene from 'Swan Lake'

03. Mozart. Eine Kleine Nachtmusik. Romance

04. Beethoven. Fur Elise

05. Rachmaninov. Rhapsody on a Theme of Paganini (Variation 18)

06. Pachelhel. Canon

07. J.S. Bach. Air on a G String

08. Delibes. Flower Duet from 'Lakme'

09. Chopin. Nocturne No. 2, Op. 9, No. 2

10. Lai. Love Story

11. Khachaturian. Adagio of Spartacus and Phrygia from 'Spartacus'

12. Dehussy. Clair de Lune from 'Suit Bergamasque'

13. Liszt. Liebestraum No. 3 in A flat

14. Saint-Saens. The Aquarium from 'Carnival of the Animals'

15. Satie. Gymopedies No. I

16. Rimsky-Korsakov. The Young Prince and The Princess from 'Scheherazade'

17. Shostakovich. Romance from 'The Gadfly'

18. Mozart. Clarinet Concerto in A Major. Adagio

19. Massenet. Meditation from 'Thais'

20. Satie. Gnossienne No. 1

21. Puccini. O Mio Babbino Caro from 'Gianni Schicchi'

22. Puccini. 'Nessun Dorma' from 'Turandot'

23. Ravel. Bolero

24. Tchaikovsky. Waltz from 'The Sleeping Beauty'

25. Elgar. Chanson De Matin

26. Grieg. Morning from Peer Gynt

::

PREVIEW

::
Информация
Посетители, находящиеся в группе Гости, не могут оставлять комментарии к данной публикации.