VA - Sick Music 3 (2012)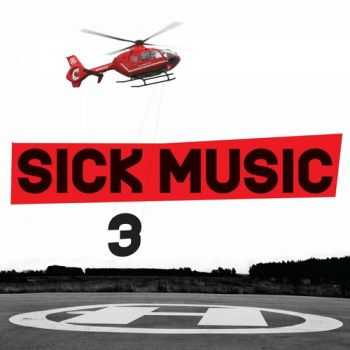 Artist
: VA
Title Of Album
: Sick Music 3
Year Of Release
: 2012-11-26
Label
: Hospital Records / NHS222
Genre
: Drum & Bass
Quality
: 320 Kbps
Total Time
: 193:58 min
Total Size
: 408 MB
Tracklist:
01) Fred V & Grafix 'Major Happy'
02) Nu:Logic 'St Pauls'
03) Optiv & CZA 'In Too Deep'
04) Raiden 'Dove From Above' (Feat Klose)
05) Madeon 'Finale' (Netsky Remix) (Album Only)
06) Lung 'Rollerball'
07) Maldini 'Party Time'
08) Gridlok 'Here To Wherever'
09) Maztek – 'Twang'
10) Technimatic 'The Golden Section'
11) Sunchase 'Elements'
12) Krakota 'Block Breaker'
13) Frederic Robinson 'Walk The Distance' (Feat Vicky Harrison)
14) High Contrast 'Wish You Were Here' (S.P.Y Remix)
15) Total Science "Now As It Was Then"
16) Ad Gannon "Tank"
17) Galimatias "Noelles Eloquence" (S.I.N. Remix)
18) Microfunk Crew "Fluctuation"
19) Need For Mirrors "Time Teller"
20) Muffler "Dribble" (VIP)
21) Danny Byrd "Blaze The Fire (Rah!)" (feat. General Levy) (Stray Remix)
22) Pluton & Skyer "Cosmic Rain"
23) Etherwood "Give It Up"
24) Jonny L "Moon"
25) Blu Mar Ten "Concierge Marie"
26) Keeno & Whiney "No More" (feat. Louisa Bass)
27) Various Artists "Sick Music 3" (Mixed By Tomahawk) (Album Only)
Sick Music 3 sees the revival of the highly successful compilation series with another slew of top-notch talent from across the spectrum. Expect to find tracks and remixes from artists as diverse as High Contrast, Raiden, Jonny L, Technimatic, Lung and Madeon across this 26-track compilation.
*CD One opens with latest Hospital signings and BBC Radio 1Xtra regulars Fred V & Grafix?s Major Happy and its all about the hands-in-the-air factor as we begin. Moving on, keep an eye out for some killer cuts from Nu:Logic, Raiden and Med School signing Lung as well as an immense Netsky remix of French electro-house star Madeons Finale.
CD Two kicks off with S.P.Ys remix of High Contrast Wish You Were Here and takes us on another musical journey through the boundary-pushing sounds of the Microfunk Crew to label friends like Blu Mar Ten, Jonny L and Stray, with an excellent VIP of Dribble by Muffler that you simply must check out.
Информация
Посетители, находящиеся в группе Гости, не могут оставлять комментарии к данной публикации.