Various Artists - Death Penalty 2 (2012)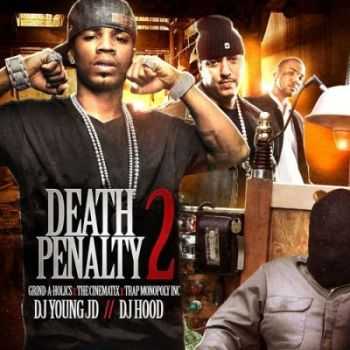 Исполнитель:
Various Artists
Альбом:
Death Penalty 2
Жанр:
Rap/Hip-Hop
Страна:
USA
Год издания:
2012
Битрейт аудио:
256 kbps
Размер:
151 мб
Треклист:
1.DJ Hood & DJ Young JD - Intro
2.Kanye West - Diamonds
3.Veli Sosa Feat. Trouble & Alley Boy - Doin Too Much
4.French Montana - Hatin On A Youngin [Prod. By Young Chop]
5.Lil Reese - Walter Payton
6.Nino Brown Feat. French Montana, Yo Gotti & Ace Hood - Trynna Come Up
7.Plies - Mean Muggin [Prod. By G5]
8.Gucci Mane & Young Scooter Feat. Young Dolph - Can't Handle Me [Prod. By 808 Mafia]
9.Gunplay - Drop [Prod. By Beat Billionaire]
10.Juicy J Feat. French Montana, Lola Monroe, Wiz Khalifa & B.o.B - Bands A Make Her Dance Pt. 3
11.Chief Keef - Kobe [Prod. By Young Chop]
12.Big Boi Feat. A$AP Rocky - Lines [Prod. By Organized Noize]
13.Busta Rhymes Feat. J-Doe & Reek Da Villain - Us (Remix) [Prod. By Young Chop]
14.T.I. - Clique
15.2 Chainz - Leggo
16.Nicki Minaj Feat. Lil Wayne - High School [Prod. By Boi-1da & T-Minus]
17.Cy Fyre Feat. Slim Thug, Pill & Blaze Burna - Jumpin Out The Gym [Prod. By Cy Fyre]
18.Young Buck - Front Seat [Prod. By Lil Lody]
19.Nicki Minaj Feat. Tyga & Brinx - I Endorse These Strippers [Prod. By Juicy J]
20.J. Cole - Miss America [Prod. By J. Cole]
21.DJ Paul Feat. Busta Rhymes, Vado & DJ KaySlay - Violent Music
22.Styles P. - Pop Out [Prod. By Vinny Idol]
23.Cassidy - Diary Of A Hustla
24.Future Feat. Game & Young Jeezy - I Remember (Remix)
25.Athlfod Coach Feat. Nino Kash - Headshot (Remix)
Информация
Посетители, находящиеся в группе Гости, не могут оставлять комментарии к данной публикации.