Swish Mix Vol. 28 (2014)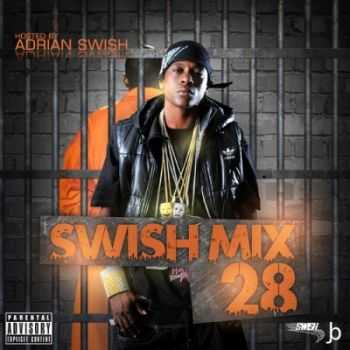 Исполнитель|Artist:
Various Artists
Альбом|Album:
Swish Mix Vol. 28
Жанр|Genre:
Rap/Hip-Hop/RnB
Страна|Country:
USA
Год издания|Year Of Release:
2014
Битрейт аудио|Quality:
m4a | 128-320 kbps
Размер|Size:
375 мб
Треклист|Tracklist:
1.Kid Ink feat. Chris Brown - Main Chick Remix
2.YG feat Lil Wayne, Nicki Minaj, Meek Mill - My Nigga Remix
3.Cali Swag District feat Waka Flocka, Skeme, Young Hootie, AD - We Out Here (Prod by J Nari)
4.Kirko Bangz ft YG, Yo Gotti- Hoe
5.Ty Dolla $ign - Paranoid (feat. Trey Songz, French Montana and DJ Mustard) [Remix]
6.S Dot B feat AD - On Me (Prod by DJ Official)
7.YG ft Drake - Who Do You Love
8.Iamsu! - Only That Real (feat. 2 Chainz Sage The Gemini)
9.Kevin Gates - Don't Know
10.Kid Ink - Never Goin Back
11.Lil Boosie ft Webbie - Show The World
12.French Montana ft Lana Del Ray - All For You
13.Euroz Easy Redd- 100 FT. SEDREW PRICE (Prod. By MLB)
14.Ace Hood ft Mavado - Buss Guns
15.Young Thug ft Meek Mill - Hundreds (I Had a Dream)
16.Genasis ft Busta Rhymes - Touchdown (NFL Version)
17.Migos ft Gucci Mane - Get Down
18.Rayven Justice - Slide Thru (feat. Keak da Sneak & Philthy Rich)
19.Jennifer Lopez - Girls
20.Willie Neal feat J Neal - Make U Love Me
21.Ludacris - Party Girls
22.Nipsey Hussel - Hotel Suite
23.DJ Kay Slay ft 50 Cent, Fat Joe - Free Again
24.Lightshow - Let's Talk About It [Prod. By Jay Cornell]
25.Young Scooter ft Lostarr, Juelz Santana - Amigos (Full) (Shout)
26.ScHoolboy Q - Break The Bank
27.G-Eazy ft Rockie Fresh, Tory Lanez - Been On (Remix)
28.Pries - I Aint Gonna Lie
29.Isaiah Rashad ft Jean Deaux - Menthol
30.OB OBrien - Steve Nash (Prod. By By Chef Byer)
31.Ricky Freezer - Indiana (Prod. by Special Beatz)
32.Drei Ros ft Pusha T - We On
33.Rico Love ft Ludacris, Trey Songz - They Dont Know (Remix)
34.Ace Hood - Jamaica
35.Euroz Easy Redd - 2 SPECIAL (Prod. By MLB)
36.PeeWee Longway ft Offset, MPA - Too Dope
37.Cali Swag District feat Nipsey Hussle- Pill Head
38.Juicy J - Blow Out
39.Chief Keef - Pull Up
40.Mobb Deep - Taking You Off Here
41.Pacman and Peso -Escape To North Korea
42.Troy Ave ft Lloyd Banks - My Style
43.Lorde - Royals
44.Lil Wayne ft Euro, Birdman - We Alright
45.Damian Marley - Is It Worth It (Gun Man World
46.Wale ft Troy Ave, Magazeen - Show Me Love (Remix)
47.Young Thug ft Bloody Jay, Future - Nothing But Some Pain
48.Martin The One - California Hippie
49.Cap 1 ft 2 Chainz, Rich Homie Quan - They Know
50.Dizzle The Prince - The Game
51.August Alsina ft Young Jeezy - Make It Home
52.Lightshow - Feature From Boosie [Prod. By Showtyme]
53.Romeo Santos ft Drake - Odio
54.Imagine Dragons - Radioactive
55.Bassjackers - Crackin' - Martin Garrix Edit
56.Steve Aoki Autoerotique vs Dimitri Vegas Like Mike - Feedback
Информация
Посетители, находящиеся в группе Гости, не могут оставлять комментарии к данной публикации.