Various Artists - All I Do Is Trap (2015)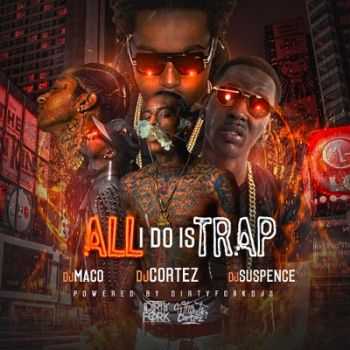 Исполнитель|Artist:
Various Artists
Альбом|Album:
All I Do Is Trap
Жанр|Genre:
Rap/Hip-Hop
Страна|Country:
USA
Год издания|Year Of Release:
2015
Битрейт аудио|Quality:
192 kbps
Размер|Size:
152 мб
Треклист|Tracklist:
1.Fredo Santana (Feat. Maxo Kream) - Big Homies
2.Lil Reese (Feat. Chief Keef) - Brazy [Prod. By Chief Keef]
3.Future - News Or Somthn [Prod. By Nard & B]
4.YFN Lucci (Feat. Yo Gotti) - I Wonder Why (Remix)
5.Fetty Wap - Ride Or Die
6.OT Genasis (Feat. Lil Wayne) - Do It
7.Soulja Boy - Rick Ross
8.Travi$ Scott - Antidote
9.Yung Simmie (Feat. Shy Glizzy) - When Im Bored (Remix)
10.Young Thug - Be Me See Me
11.Lil Reese (Feat. Lil Durk) - Myself [Prod. By Chase Davis]
12.Lil Nuka - Started From Those Bags [Prod. By Ignorvance]
13.Que - Cant Call It [Prod. By Zaytoven]
14.DJ Durel (Feat. Offset, Jose Guapo, Prince Ink & Yak Gotti) - Alley Oop
15.Fetty Wap - Boomin
16.Johnny Cinco - Understand Me [Prod. By OG Parker]
17.DeJ Loaf (Feat. Young Thug) - Shawty
18.XVL Hendrix - Paid In Full
19.Young Jeezy (Feat. Young Dolph & Bankroll Fresh) - Everything [Prod. By Zaytoven]
20.Jose Guapo (Feat. Quavo) - DUI
21.Vinlee (Feat. Bando) - Smoke Drank Chiill
22.Que - Gucci Said [Prod. By SonnyDigital]
23.Ruga (Feat. Young Profits) - Dirtroad
24.Skooly - Bussin Down
25.Sauce Walka - I Did It
26.Saville (Feat. Bankroll Fresh) - Aint Bout Money [Prod. By 30Roc]
27.Gucci Mane (Feat. Soulja Boy) - Born Wit It [Prod. By Mike Will Made It]
28.OG Maco - Handle Me [Prod. By Spliff Huxtable & Maco Mattox]
Информация
Посетители, находящиеся в группе Гости, не могут оставлять комментарии к данной публикации.