Various Artists - Digital Dynasty 36 (2015)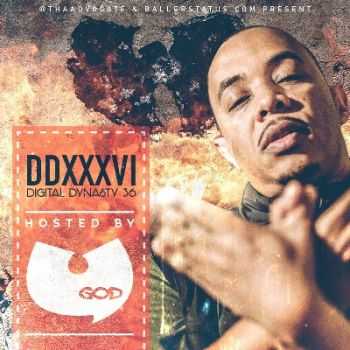 Исполнитель|Artist:
Various Artists
Альбом|Album:
Digital Dynasty 36
Жанр|Genre:
Rap/Hip-Hop
Страна|Country:
USA
Год издания|Year Of Release:
2015
Битрейт аудио|Quality:
192 kbps
Размер|Size:
266 мб
Треклист|Tracklist:
1.U God- DD36 Intro
2.U God- Drunk Dance (DD36 Exclusive)
3.Tha Advocate ft. 050 Boyz- 3 Kings (DD36 Exclusive) (Prod. by Joey Loax)
4.Mile Hicons - Ego & Violence
5.Aida - Rep NY
6.Killah Priest- The Vast Bottomless Sleep (Cosmos) (DD36 EXCLUSIVE)
7.Prodigal Sunn (of Sunz of Man) ft. Verble I - Over Coming Pain (Prod. by Lock Jaw Records Inc)
8.Scientific - What You Made Me Do
9.Corey Gunz- Shut Em Down
10.AMN- Moment Supreme
11.DiZZY BOi Ft. Young Noble (Outlawz)- Against The Wall (Prod by DJ A.O.)
12.2Pac ft. The Outlawz, Danny Boy- Where U Been (Unreleased)
13.Indeanel- If There's Hell Below
14.Main Adrenaline- Revalation & The Beast
15.U God Interlude- God Is Love ft. Killah Priest & Cappadonna
16.Chris Simpson aka Tha Bat- Real Talk
17.Mr Rozzi & UpRite Lions- Mean 16 (Produced by Dark Park)
18.Jadakiss- Shame On Ya (Wu Freestyle)
19.Blacktru Tha King - The Zoo (Rmx)
20.S.G.- From The Ghetto (Prod. By Roll Blunt (U.K.)
21.Novatore- Slaughter
22.Chris Rivers - You Ain't Recognized
23.Ill3gal aka Infinite Prime- Dope Flow Freestyle
24.U-God - Wu-Tang
25.Imperial Link- Divine Revelation (Prod. by CLG Beats & Grimy Grizzly of A.ssociated W.ith O.riginal )
26.Scientific- My Thoughts
27.U God Interlude 2- Old School Jewel- Wutang- Its Yourz (1997)
28.Wiz Hotep - Wiz Hotep (of Reciprocity Posse) [Prod. by M4dd Sc!3ntist]
29.Predator & Cutty- Bizness Affairs (Prod by Cutty)
30.Papoose and Remy Ma- Broken Language 2015
31.Prospect the Ol' Prospector Ft. Greazy Greaze -EYESLOW (produced by D.R.U.G.S.)
32.KOOMRAN the Rapper - A Real Woman
33.U-God - Train Trussle
34.Fou Lu - MEDitation For The Dome (Prod. by Tony Mahoney)
35.Grind Extraordinaire- Keep it Grindin
36.Maino- The Most Beautiful
37.Willy The Poet- Think About You (Prod. by I75 Beatz)
38.Adam Meyer - Callous Indifference
39.Sheek Louch- Bi Polar Gorrillaz
40.Blacktru Tha King- Flawless Victory (General Principles rmx)
41.U God DD36 Mashup
42.Tha Advocate ft. Manic, DJ K Law, Coop, WiSEMaN, Rottn- The N.E.W. Pt. 13 (Produced by K Lion)
43.U God Interlude 3- Winter Warz
44.IRONMiTH- My Companion
45.Joey Bada$$- 2pac Freestyle (Live)
46.Da Killah Genius- Poisonous Bars (Prod by Da Killah Genius)
47.U God ft. Gza, Jackpot, Scotty Wotty- Jack Pot
48.Ignyte - You Want To Be a G Prod. By Anno Domini (Mixed By Lock Jaw Records Inc.)
49.Styles P- Ghost Motion
50.U God- Room Keep Spinning - Rumble ft. Method Man, Deck and Leathaface
51.U God DD36 Outro
Информация
Посетители, находящиеся в группе Гости, не могут оставлять комментарии к данной публикации.